Jack Black Doc 'The Insufferable Groo', About A Tommy Wiseau-Style Filmmaker, Finds U.S. Distribution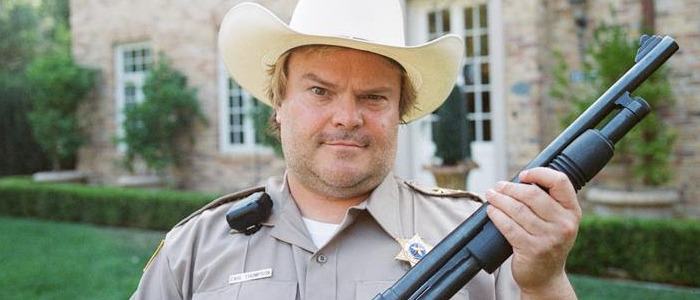 Tommy Wiseau. James Nguyen. Neil Breen. Connoisseurs of "so bad, they're good" movies are familiar with these infamous directors, but have you heard of Stephen Groo? The Utah-based filmmaker has nearly 200 low- or no-budget credits to his name, and he's the subject of a new documentary called The Insufferable Groo, which follows the title filmmaker as he casts professional actor Jack Black (School of Rock, King Kong) in his newest movie, an elf/human love story.
Take a look at the trailer for the documentary below and see some some, uh, highlights of Groo's other work over the years.
Gravitas Ventures has purchased the North American distribution rights to director Scott Christopherson's documentary The Insufferable Groo. Here's the synopsis:
THE INSUFFERABLE GROO follows filmmaker Stephen Groo, age 41, a self-proclaimed auteur, narrowing in on his 200th film in 20 years. His oeuvre of outlandishly awful genre films has managed to attract admirers like Napoleon Dynamite's Jared Hess and Jack Black, but the Utah-based director has never made a dime off of his work, leaving his wife to provide for their family of four small boys. As Groo attempts to make his latest opus, an elf/human love story, his narcissism threatens to prove his undoing in this entertaining look at low-budget guerrilla filmmaking.
I read that and assumed Groo was a fictional character created for this documentary as sort of a meta-exploration of bad movie directors. But it turns out he's a real guy. Here's one of his videos:
Here's a trailer for a She-Hulk project he made:
After seeing those, I instantly felt bad for laughing. But then I watched the trailer for The Insufferable Groo, and realized the documentary is called that for a reason: this dude really does seem insufferable in real life.
Maybe it's just me, but when someone is that delusional about their own talent level, I no longer feel bad about laughing at their work.
Here's the trailer for the movie in which Black stars, a feature called The Unexpected Race. I'll say this much about it: it's far more polished than most of the videos on his Utah Wolf Productions YouTube channel:
"Jack Black and Stephen Groo make for a hilarious documentary experience," director Christopherson said in a statement. "Groo's huge body of work should be recognized and celebrated and we are excited to have Gravitas share his story with the world."
The Insufferable Groo comes to theaters this December and arrives on VOD on December 14, 2018.