'Everybody Knows' Trailer: Javier Bardem And Penelope Cruz Reunite In Asghar Farhadi's Kidnapping Thriller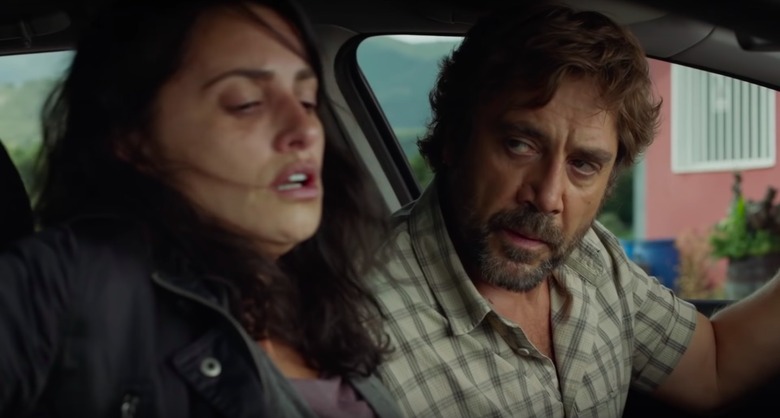 Penelope Cruz reunites onscreen with spouse Javier Bardem for the first time since 2013's The Counselor in a new movie this year. But while that movie didn't give them much screen time together, Everybody Knows puts the duo through the wringer. Cruz and Bardem star in the taut kidnapping thriller from Oscar-winning Iranian filmmaker Asghar Farhadi which premiered at the 2018 Cannes Film Festival in May. Ahead of the film's U.S. release this coming February, Focus Features has released the first Everybody Knows trailer.
Everybody Knows Trailer
In his relatively short feature directing career, Farhadi has already become one of the most renowned international directors working today, earning two Oscar wins for his films A Separation and The Salesman — making him one of the rare filmmakers to win an Academy Award for Best Foreign Language Film twice, putting him in the company of legendary directors such as Akira Kurosawa and René Clément.
But Farhadi has rarely ventured outside of his home country of Iran, apart from 2013's The Past and now the Spain-set Everybody Knows. And apparently Farhadi's bold undertaking outside of his native Iran ends up hurting the film. Reviewing the movie at this year's Toronto International Film Festival, /Film's Marshall Shaffer wrote "Everybody Knows cannot help but possess an aura of impersonality. It lacks the cultural specificity that made [Farhadi's] prior films so indelible." He added:
Plenty of directors have gone outside their comfort zones and created great films that examine other countries from an outsider's perspective. But, in general, these films start from the specific and build out to the universal. Farhadi seems to have started with a one-size-fits-all narrative, jet set to Spain and layered on details after. What results is something still as rigorously written and planned as Farhadi's other films, just lacking a certain organic quality that gives the drama an extra punch.
Everybody Knows follows Cruz's Laura as she travels from Argentina to her small hometown in Spain for her sister's wedding, where her eldest daughter gets kidnapped. The tragic event compounds the tense family situation and dark secrets that had already begun to unravel at her homecoming. Bardem costars as the family employee Paco, who may have closer ties than expected.
Everybody Knows opens in theaters in February 2019.
The film follows Laura (Cruz) on her travels from Argentina to her small home town in Spain for her sister's wedding, bringing her two children along for the occasion. Amid the joyful reunion and festivities, the eldest daughter is abducted. In the tense days that follow, various family and community tensions surface and deeply hidden secrets are revealed.