Spielberg, Scorsese, Nolan And More Are Trying To Save FilmStruck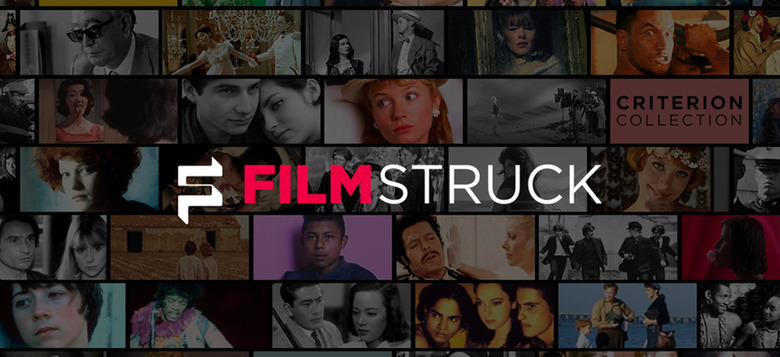 The saga to save FilmStruck has taken an interesting turn. In the wake of a popular petition hoping to save the soon-to-close streaming service, a huge list of big names in the movie biz have banded together to plead with Warner Media Group and change the minds of the powers that be. Steven Spielberg, Martin Scorsese, Paul Thomas Anderson, Christopher Nolan, Rian Johnson, Christopher McQuarrie, Karyn Kusama, and many, many more have thrown their considerable weight behind FilmStruck. Will this make a difference? We can only hope, because the clock is ticking.
Warner Media Group axed FilmStruck, the fantastic streaming service from Turner Classic Movies featuring rare, classic, foreign, arthouse, and independent movies, for several reasons. One was it apparently didn't have enough subscribers. Another is that Warners is building its own streaming service, and they didn't want to compete with themselves. As of now, the plan is to shut FilmStruck down on November 29. But this news isn't sitting well with cinephiles. A petition has been going around urging Warner Media to reconsider – and said petition already has over 50,000 signatures. Filmmakers, actors, and more took to Twitter to urge others to sign the petition and ask Warner Media to course correct.
And now, even more big names have banded together with two letters. The first letter comes from Paul Thomas Anderson, Ana Lily Amirpour, James Brolin, Damien Chazelle, Alfonso Cuarón, Guillermo Del Toro, Leonardo DiCaprio, James Gray, Alejandro González Iñárritu, Bill Hader, Karyn Kusama, Barry Jenkins, Rian Johnson, Christopher McQuarrie, Reed Morano, Christopher Nolan and Emma Thomas, Gina Prince-Bythewood, Barbra Streisand, and Edgar Wright. It's addressed to Warner Bros Picture Group chairman Toby Emmerich, and features an impassioned plea to save FilmStruck. Emmerich had nothing to do with the shuttering of FilmStruck, but he's still a bigwig at Warners. The letter also reveals that both Steven Spielberg and Martin Scorsese have already spoken with Warner Media Group, urging them to save FilmStruck. Here's the letter in full.
Dear Toby,
We know that Steven Spielberg and Martin Scorsese have been in touch with you and Warners Media Group about the demise of FilmStruck and have urged you guys to keep it going.
While it was not your decision, we would like to loudly echo their sentiments. The FilmStruck service was (IS) the best streaming service for fans of cinema of all kinds: classic studio movies, independent cinema, international treasures. Without it, the landscape for film fans and students of cinema is especially bleak. There's a reason there was a huge outpouring from artists and fans over it being shuttered, they were doing the Movie God's work.
In an era of huge corporate acquisitions of cinema by communication companies- in a business that may render billions of dollars off a medium like cinema, we believe this is a gesture that is needed- a minuscule show of goodwill towards the preservation and accessibility of a tradition and a rich history that would benefit the public.We know one of the reasons that it has been shut down is because of an upcoming Warners streaming service, but really FilmStruck shouldn't be a conflict of interest. In this day and age where there are dozens of platforms, curation of content is really important and FilmStruck was providing a service to both satisfy older fans of cinema and a younger generation of cineastes that will be making amazing movies long after we're dead.
So we want to add our names to the petition started by Marty and Steven and want you (and Warners) to know that we feel equally strongly and would do anything to support the service being saved.
Honestly, if any of these people – especially Steven Spielberg and Martin Scorsese – wrote to me and said I was making a mistake, I'd probably stop and reconsider. Will that happen here? Will Warner Media realize they've goofed? I don't know. But this isn't the only letter going around. Almost immediately after word of this letter broke, another letter surfaced, with even more signatures.
Here are the names attached to letter number 2: John Ridley, David Oyelowo, So Yong Kim, Rachel Morrison, Malcolm D Lee, Nicole Kassell, Mark Johnson, Hank Corwin, Nicholas Britell, Scott Alexander, Larry Karaszewski, Glenn Ficarra, John Requa, Billy Ray, Eric Roth, Sofia Coppola, Lenny Abrahamson, Freida Pinto, Nina Jacobson, Luke Davies, Mira Nair, Lydia Dean Pilcher, Jason Hall, Graham Moore, Liz Hannah, Jay Cassidy, Jeremy Kleiner, Steve Golin, Susanne Bier, Elizabeth Cantillon, Brad Weston, Sam Taylor Johnson, and the Vidiots Foundation. Read the second letter below:
To whom it may concern at Turner and Warner Bros. Digital Networks:
Roger Ebert once said "the movies are like a machine that generates empathy. It lets you understand a little bit more about different hopes, aspirations, dreams and fears. It helps us to identify with the people who are sharing this journey with us."
No truer words.
Though we live in a world with increasing ways to view content, the range of content and the variety of storytellers has remained, sadly, limited.
In its short two years of existence FilmStruck was a machine that generated empathy by curating not only classic Hollywood films, but by streaming and highlighting world cinema, cinema by female, traditionally disenfranchised, and LGBT filmmakers and storytellers. FilmStruck added a depth, breadth and richness to the viewing experience that had not previously been attempted, and may – fearfully – disappear permanently with FilmStruck's demise.
We the undersigned respectfully ask Turner and Warner Bros. Digital Networks to please reconsider their plans for FilmStruck. While we understand that "business" has always been a part of "show business," we would hope that if FilmStruck cannot be continued in its present form, it would be allowed to function until such a time as a suitable, and suitably robust, replacement can be launched.
We hope that Turner and Warner Bros. Digital Networks will pause to recognize what an extraordinary accomplishment FilmStruck is. Equally, we hope the powers that be will consider maintaining what has become a significant film site for true enthusiasts of the moving image.
Time is running out for FilmStruck. November 29 is right around the corner. I can only hope these letters will make some sort of difference before the sand in the hourglass runs out.