Pop Culture Imports: Bong Joon-Ho's 'Memories Of Murder,' Sebastián Lelio's 'Gloria,' Jet Li's 'Fearless,' And More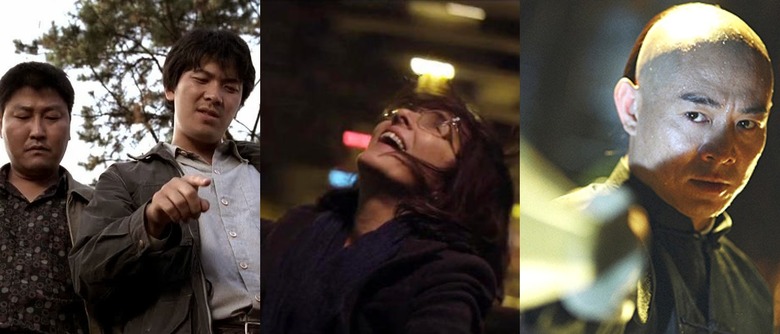 (Welcome to Pop Culture Imports, a column that compiles the best, wackiest, and weirdest foreign-language movies and TV shows streaming right now.)
There's nothing like a foreign movie to keep you cozy on these cold November nights. This week's Pop Culture Imports compiles more of the best foreign movies and TV streaming now, including a few underrated flicks from renowned filmmakers like Bong Joon-Ho's Memories of Murder, Jet Li's Fearless, and a Chilean character drama from the director of A Fantastic Woman. Joining them is the Che Guevara biopic starring Gael García Bernal as well as a pitch-black Icelandic dramedy.
Fire up those subtitles and let's see the best foreign movies and TV streaming now.
The Best Foreign Movies and TV Streaming
Memories of Murder – Amazon Prime
Country: South KoreaGenre: Crime dramaDirector: Bong Joon-hoCast: Song Kang-ho, Kim Sang-kyung, Kim Roi-ha, Park Hae-il, Byun Hee-bong.
Watching Memories of Murder is an almost jarring experience at first. Like in many of director Bong Joon-ho's films, the 2003 crime thriller ricochets between tones and characters at breakneck speed, oftentimes crowding each frame with so much movement that it can be overwhelming for viewers used to the slow-burn of many U.S. crime dramas. But it doesn't take long to see that every shot, every frame is meticulously crafted by the South Korean auteur, who shows the full range of his versatility in just his second feature film. Based on the string of real-life serial murders that took place in Korea between 1986 and 1991, Memories of Murder is a masterful character-driven crime drama that is equal turns infuriating and exhilarating. The film follows a pair of dim-witted local detectives who stumble upon a rape/murder case and find themselves in over their heads. The main detective, played by frequent Bong collaborator Song Kang-ho, is a thuggish, almost cruel character who soon finds himself paired with a more experienced, by-the-books detective from Seoul (Kim Sang-kyung), which naturally leads to them butting heads. But as the case wears on and the bodies pile up, both men are driven to desperation that leads them to take unexpected actions. The film sounds like a typical crime thriller, but Bong's characters are so rich, his filmmaking so deliberate that Memories of a Murder instantly ascends to classic status. Only Bong could juggle so many different tones and borderline-hateful characters around a heartfelt emotional core.
Watch This If You Like: Zodiac, Se7en, The Girl With the Dragon Tattoo, reading tattered whodunits on the airplane.
Gloria – Hulu
Country: ChileGenre: DramaDirector: Sebastián LelioCast: Paulina García, Sergio Hernández.
Vibrant and achingly human, Gloria is a movie we don't see a lot of these days in the States. The closest we'll get to a film about a "woman of a certain age" is in Nancy Meyers' filmography of relatively toothless rom-coms, but those sometimes feel more like catalogues for summer homes and turtlenecks than raw portraits of life over the hill. Gloria stands apart not just for its refreshingly frank approach to an older woman's dating life after divorce, but in the powerhouse performance from Paulina García, whose free spirit and contagious smile is what cinema was made for. The film follows the titular Gloria as she frequents social dance clubs for single adults, where she meets fellow divorcee Rodolfo. They begin a passionate affair that is mired by their own shortcomings and baggage, but through it all, Gloria comes out, well, glorious.
Watch This If You Like: Frances Ha, Beginners, scoffing at Nancy Meyers "old romance" movies as too basic.
Jet Li's Fearless – Netflix
Country: ChinaGenre: Martial arts actionDirector: Ronny YuCast: Jet Li, Dong Yong, Nakamura Shido II, Collin Chou, Betty Sun.
When Fearless was released in 2006, Jet Li proclaimed it to be his final wushu epic. And boy, did he go out with a bang. Li plays Huo Yuanjia, the real-life founder of Chin Woo Athletic Association, who in the early 1900s reportedly defeated countless foreign fighters in highly-publicized events that helped restore China's pride in the wake of Western imperialism. The film chronicles Huo's arc from an arrogant martial arts master through the tragic events that transformed him into noble figure. Like many of the martial arts films to come out of China in the past decade, Fearless is nationalist as hell, ending in a sequence that ends with Huo becoming a Jesus-like martyr for China. But Fearless is still a gripping drama with flashy, stylish wuxia fight sequences that are delivered with aplomb by Li.
Watch This If You Like: Ip Man, Once Upon a Time in China, Rocky IV, pointing out the nationalist themes of recent Chinese/Hong Kong cinema.
Under the Tree – Hulu
Country: IcelandGenre: Dark comedy/dramaDirector: Hafsteinn Gunnar SigurossonCast: Steinþór Hróar Steinbórsson, Edda Björgvinsdóttir, Sigurour Sigurjónsson, Porsteinn Bachmann, Lára Jóhanna Jónsdóttir, Selma Björnsdóttir.Under the Tree is a realization of Anchorman's "Well, that escalated quickly" scene, except things don't escalate quickly so much as uneasily build to a heinous boiling point. A pitch-black comedy of manners about a neighborly disagreement over a particularly large tree, Under the Tree weirdly plays out like a thriller for much of the film, until you realize that it was a horror film all along. Under the direction of Hafsteinn Gunnar Sigurosson, Under the Tree unfolds like a sharp, darkly funny character drama, centering around two neighboring houses who clash over a tree that casts a shadow in the other's porch. The owners of the said tree also have a son who gets kicked out of his home by his wife, who soon becomes entangled in the increasingly sinister tree conflict. It sounds absurd, but Sigurosson treats the story as seriously as the neighbors treat their disagreement, until the film's visceral turn for the worst takes you by surprise.Watch This If You Like: Hot Fuzz, Burn After Reading, your comedies as black as your coffee (and soul).
The Motorcycle Diaries – Amazon Prime
Country: ArgentinaGenre: Teen drama seriesDirector: Darío Madrona, Carlos MonteroCast: Omar Ayuso, Miguel Bernardeau, Mina El Hammani.
Whoa, a Che Guevera biopic? We ain't here to get political. Luckily for you, neither is The Motorcycle Diaries. Based on Guevera's trip diary (later compiled into a memoir) of a cross-continent motorcycle journey taken by a young Guevera and his friend Alberto Granado, The Motorcycle Diaries chronicles the pair's 1952 life-changing expedition across South America. Though they initially hit the road as a last hurrah before the two of them embark on careers as a doctor and pharmacist, respectively, Guevera and Granado end up encountering exploited workers and impoverished outcasts that change their worldviews dramatically. The Motorcycle Diaries is an earnest biopic that's more On the Road than Che!, dialing down the politics and dialing up the humanity. Though Gael Garcia Bernal reportedly studied Guevera's life obsessively in preparation for the film, his guileless performance as a man coming-of-age more vividly recalls his other iconic role in Y Tu Mamá También than the militant Marxist revolutionary that graces so many pop art posters.
Watch This If You Like: On the Road, Into the Wild, trying to feed your Y Tu Mamá También obsession.