Amazon Orders 'Bosch' Season 6, Because People Can't Get Enough Of 'Bosch'!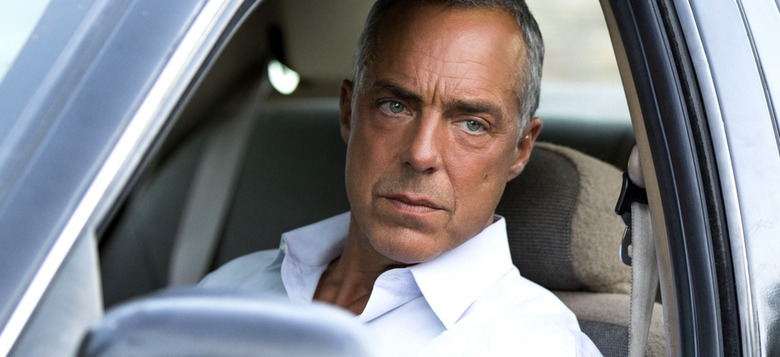 Amazon has heard you say "Alexa, play another episode of Bosch!" so many times they've decided go order Bosch season 6. This officially makes Bosch the longest-running Prime Original series, ensuring Bosch's place in the TV hall of fame. Season 5 is still in production, but after that, you can rest assured that once again, Detective Harry Bosch (Titus Welliver) will tackle crime while also being haunted by the murder of his mother. More on Bosch season 6 below. Bosch!
The world hasn't even had a chance to see Bosch season 5 yet, but Amazon is pretty damn sure everyone wants more Bosch. Which is why they've already ordered season 6. "Bosch is a customer and critical favorite and Amazon Prime members are fans of this long-running series that delivers strong storytelling, complex characters, and exceptional performances. We are happy to continue to work with Fabrik, Michael Connelly, and the rest of the team on this artful procedural drama," said Albert Cheng, Co-Head of Television, Amazon Studios.
Bosch is based on the popular book series by Michael Connelly, and stars Titus Welliver (Lost) as homicide Detective Harry Bosch, Jamie Hector (The Wire) as Detective Jerry Edgar, Amy Aquino (Being Human) as Lt. Grace Billets, Madison Lintz (The Walking Dead) as Maddie Bosch and Lance Reddick (The Wire) as Deputy Chief Irvin Irving.
The first season of the show saw Bosch trying to find a killer while on trial for murder himself. Season 2 had Bosch back at work, trying to solve another murder. And from there, the show has continued along a similar path, with Bosch also trying to find out who murdered his mother. Season 5 is currently in production, so we have no idea where season 6 will go – but I'm guessing it will involve murder in some form. That seems to be Bosch's thing.
"I'm on the set where we are wrapping up the filming of season 5, and now this great news that we get to do it again with a sixth season. Can't wait!" Michael Connelly said regarding the news of season 6.
"Bosch is Amazon Prime Video's longest-running drama and continues to be a huge hit, thrilling audiences around the world season after season," added Henrik Pabst, President of Red Arrow Studios International, the TV distribution arm of Red Arrow Studios.  "We are delighted the show is returning for Season Six."
I haven't seen a single episode of Bosch, but I've heard nothing but good things about it. I also like saying "Bosch", so I might have to check this out. Season 5 will start up in 2019.