'The Mandalorian' Cast Now Includes 'Deadpool' Actress And Former MMA Star Gina Carano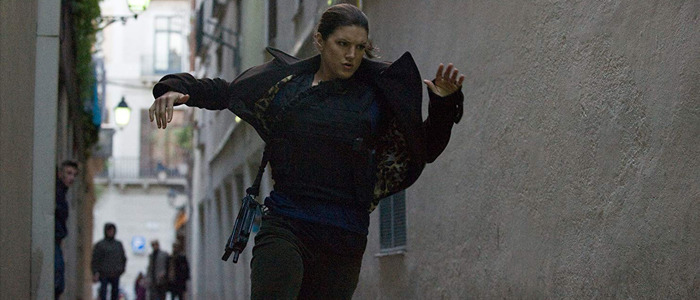 Gina Carano is heading to a galaxy far, far away. The former mixed martial arts fighter broke out in Hollywood when she starred in Steven Soderbergh's spy movie Haywire, and now she's the latest actor to join the cast of Disney+'s upcoming Star Wars series The Mandalorian.The Wrap reports that Carano has been added to The Mandalorian cast, alongside the previously-confirmed Pedro Pascal (Narcos, Game of Thrones) and the still-rumored Carl Weathers (Rocky, Predator). But as is often the case with Star Wars-related content, the production is keeping a tight lid on this one and we don't have any information about what character Carano will be playing.
Pascal is starring as "a lone gunfighter in the outer reaches of the galaxy far from the authority of the New Republic", so it's left to us to speculate about what type of character Carano might be. Rey's mom? Young Snoke, perhaps? (I don't seriously believe either of those – I'm just mentioning these because someone was going to do it and I wanted to beat them to the punch.)
A more serious guess would be that she's playing a villain. Even going back to her work as "Crush" on American Gladiators, Carano's physicality has always been her greatest strength as a performer. She's had a tendency to struggle with everything else, so suiting her up as a fearsome baddie and letting her wreck some people in the world of Star Wars sounds like it may be the best use of her talents. I enjoyed her work in Haywire (though her voice was altered for that movie), but have found her largely lacking in films like Fast & Furious 6 and Deadpool. Put her in some armor, let her scowl a lot, and her work some magic.
We've deduced that iconic German filmmaker Werner Herzog is almost certainly going to appear in this series as an actor. Could he be playing the primary villain (like he did in the Tom Cruise film Jack Reacher), with Carano as his chief bruiser who carries out his assassinations and dirty work for him? That's a pairing I never thought I'd want to see, but the thought of seeing the two of them mix it up with Pedro Pascal makes me want to subscribe to Disney+ immediately.
The Mandalorian is the first live-action series set in the Star Wars universe. Jon Favreau (Iron Man, The Jungle Book) is writing and executive producing, and he's recruited a stellar group of directors to tackle the individual episodes: Dave Filoni (Star Wars: The Clone Wars), Deborah Chow (Jessica Jones), Rick Famuyiwa (Dope), Bryce Dallas Howard (Solemates), and Taika Waititi (Thor: Ragnarok).The Mandalorian is slated to premiere with Disney+ when the service debuts sometime in late 2019.