Daily Podcast: Is Going To The Movies Considered Hanging Out? Ghostbusters 3, Netflix, A Star Is Born, Origin, Alien, George RR Martin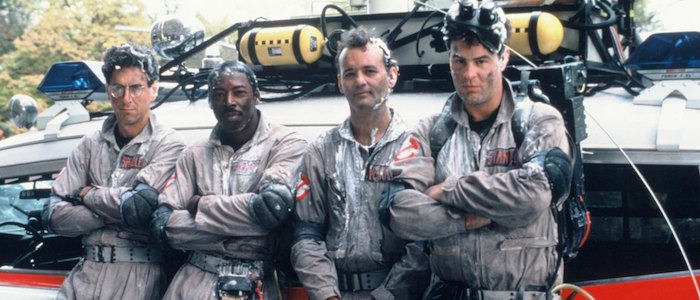 On the November 14, 2018 episode of /Film Daily, /Film editor-in-chief Peter Sciretta is joined by /Film weekend editor Brad Oman and senior writer Ben Pearson to talk about the latest film and tv news, including Ghostbusters 3, Netflix, A Star is Born, Origin, Alien: Awakening, and George RR Martin. And in the Mailbag, we'll read some listener responses and answer a question about hanging out at the cinema.You can subscribe to /Film Daily on iTunes, Google Play, Overcast, Spotify and all the popular podcast apps (here is the RSS URL if you need it).
Opening Banter: We are recording early because Peter is covering a Wreck-It Ralph VR event.In The News:
Brad: Dan Aykroyd Still Thinks 'Ghostbusters 3' is Possible, Keeps Trying To Make "Fetch" Happen
Ben: Netflix to Experiment With Cheaper Price Tier to Expand Global Reach
Brad: 'A Star Is Born' Could Have Starred Real Musician Jack White as Jackson Maine
In The Mailbag:
Last week we collectively said how Cassian Andor was our least favorite part of Rogue One. Pablo from Fort Wayne Indiana wrote in a defense
"I just listened to your Friday podcast this morning and it made me want to write you because you said in the episode you didn't think anyone really wanted a Cassian Andor show.
I can tell you the buzz around Latino Twitter is big on this. Personally I couldn't be more excited to be seeing a Star Wars show led by a Latino. This is something I always wanted as a kid, a Latino in the Star Wars universe? It would've been huge for me. As far as performances go I thought he was one of the people who shined in Rogue One and I loved his character because he was the one who'd been in the struggle for years already so he gave weight to the Rebellion (in my mind). I had a nephew who loved Rogue One because of Cassian and his character is a reason he started loving Star Wars. I remember for when The Force Awakens came out, the following Halloween my nephew told me he couldn't dress as  Jedi because there weren't any Mexican Jedi's and it broke my heart, what I told him is besides the point, but even if Cassian isn't a Jedi, he's someone to look up to and for younger generations to see themselves as
.   Anyways I just wanted to share my 2 cents as a Star Wars lover and Latino about how excited I am for the new show because representation matters in media and this could be really important for younger generations and Diego Luna deserves it (he's also going to be leading Narcos season 4)."
Peter asked what MCU side characters would you like to see get a Disney Streaming series:
Alan Wise in Atlanta, GA wrote in "I would like to see a series featuring the three friends of Scott Lang/Ant-Man surrounding their X-Con business."
HT and Chris couldn't understand why Boba Fett was so beloved.
Declan from Toronto writes in "Love the Podcast and after today's show I wanted to shed some light on HT's and Chris' question on why Boba Fett is a beloved Star Wars Character to a good portion of fans.  
It really stems from the Star Wars Legends. There were several comics and books (Legacy of the Force Bloodlines for example) that expanded on the character and really detailed the complex background of Boba as well as how badass of a fighter and strategist he was. He was depicted as a true anti-hero. What George Lucas did to him in Return of the Jedi did not do him any justice and it's not the first time George exploited a potential great character for comedic relief (falling clumsily  into the Sarlacc pit). Just a point of view, and yes the action figures were badass as well
?."
Kolin from San José writes in "Hopefully you can help me out on this disagreement my cousin and I have. Do you consider going to a movie with someone "hanging out"?   If you go with your significant other, is it considered a date? Hypothetically, let's say it's just the movie and you won't be getting food before or after. Thanks!"
Other articles mentioned:
All the other stuff you need to know:
You can find more about all the stories we mentioned on today's show at slashfilm.com, and linked inside the show notes.
/Film Daily is published every weekday, bringing you the most exciting news from the world of movies and television as well as deeper dives into the great features from slashfilm.com.
You can subscribe to /Film Daily on
iTunes
,
Google Play
,
Overcast
,
Spotify
and all the popular podcast apps (
RSS
).
Send your feedback, questions, comments and concerns to us at
peter@slashfilm.com
. Please leave your name and general geographic location in case we mention the e-mail on the air.
Please rate and review the podcast on iTunes, tell your friends and spread the word!
Thanks to Sam Hume for our logo.