'Never-Ending Man: Hayao Miyazaki' Trailer: Documentary Follows The Return Of An Anime Titan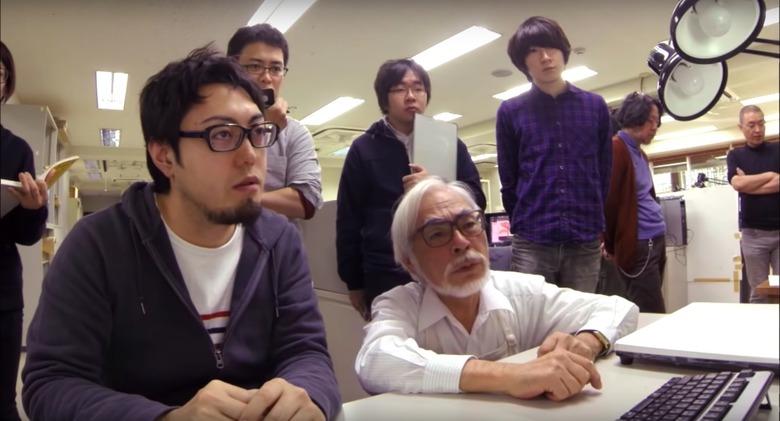 Two years after Japan first aired the documentary Never-Ending Man, U.S. audiences are finally getting the film following Hayao Miyazaki's highly-anticipated return to filmmaking.
The legendary anime filmmaker left a hole in the film world when he announced his retirement in 2013, but like many great creative minds, he just couldn't stop working. Retitled Never-Ending Man: Hayao Miyazaki, the documentary was filmed by NHK WORLD TV and picked up by U.S. distributor GKIDS, which releases it in select U.S. theaters this winter.
Never-Ending Man Hayao Miyazaki Trailer
Never-Ending Man: Hayao Miyazaki documents Miyazaki's inevitable return to the anime world as he sets out to make his very first feature-length CGI animated film. The touching, thought-provoking ode to a filmmaker who creates profoundly serene films and yet can never find peace in his own life was filmed in 2013, hitting Japanese television in 2016. And now, finally, we're getting it in the U.S. this December.
The second official trailer for the film gives us a glimpse at Miyazaki's failed attempts to settle into retired life, as his friend and longtime Studio Ghibli collaborator Toshio Suzuki jokes, "It's like all we can do now is get old." It's a little depressing to see the empty halls of the former animation studio that produced such masterpieces like Spirited Away, Princess Mononoke, and Castle in the Sky, but the trailer soon kicks into gear when Miyazaki starts doing what he does best: doodling. Soon his doodles turn into a full-length feature titled Boro: The Caterpillar, which inspires him to experiment with CG animation in a feature film for the first time.
As someone who spent countless hours watching the behind-the-scenes features for Spirited Away (shout-out to everyone who has rewatched the "Miyazaki makes ramen" clip a million times), I cannot wait for this film. Miyazaki's perseverance and addiction to the creative process is an inspiration, and something that comes through in both his animated works and this documentary.
Here's the official synopsis for Never-Ending Man: Hayao Miyazaki:
In 2013, film director and animator Hayao Miyazaki suddenly announced his retirement at the age of 72. But he couldn't shake his burning desire to create. After an encounter with young CGI animators, Miyazaki embarked on a new endeavor, his first project ever to utilize CGI. But the artist, who had been adamant about hand-drawn animation, confronted many challenges. The film even faces the danger of being cancelled. Can an old master who thinks he's past his prime shine once again? This program goes behind the scenes over two years as Miyazaki overcomes struggles to create his short film using CGI.
GKids will finally release Arakawa's Never-Ending Man: Hayao Miyazaki in limited US theaters on December 13 and 18, 2018.