'Dumplin'' Trailer: Jennifer Aniston's Plus-Size Daughter Changes The Beauty Pageant Game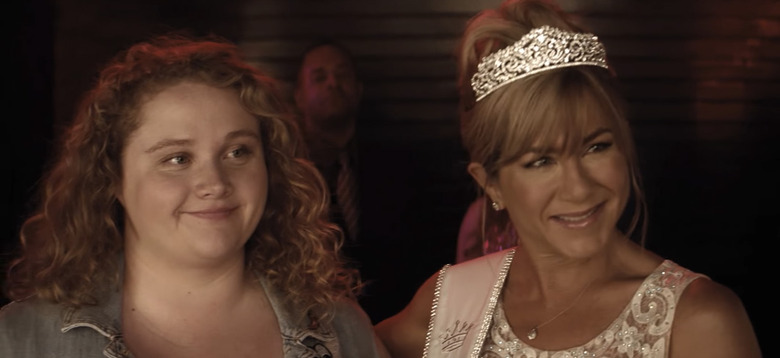 We may receive a commission on purchases made from links.
It's strange that beauty pageants are still a thing in 2018, but apparently people still love a superficial contest where women are rewarded for their looks and the judges pretend that the answers to any of the questions they ask actually matter. But in some sparsely populated areas, it's all they have. For plus-size teenager Willowdean (Danielle Macdonald) with a beauty queen mother (Jennifer Aniston) in a Texas town, it's a burden that she has to deal with every year. Now she's about to shake things up.
Watch the Dumplin' trailer below to see it all unfold.
Dumplin' Trailer
Danielle Macdonald made waves in the indie rapping drama Patti Cake$, and now she's working with one of Hollywood's biggest stars in a body positive comedy that will hopefully shine a light on the silliness of pageants with a lot of heart. But it's not just about the pageant, because there's romance here too. Check out the synopsis of Julie Murphy's book of the same name, on which the film is based:
"Self-proclaimed fat girl Willowdean Dickson (dubbed "Dumplin'" by her former beauty queen mom) has always been at home in her own skin. Her thoughts on having the ultimate bikini body? Put a bikini on your body.
With her all-American beauty best friend, Ellen, by her side, things have always worked . . . until Will takes a job at Harpy's, the local fast-food joint. There she meets Private School Bo, a hot former jock. Will isn't surprised to find herself attracted to Bo. But she is surprised when he seems to like her back.
Instead of finding new heights of self-assurance in her relationship with Bo, Will starts to doubt herself. So she sets out to take back her confidence by doing the most horrifying thing she can imagine: entering the Miss Clover City beauty pageant—along with several other unlikely candidates—to show the world that she deserves to be up there as much as any girl does.
Along the way, she'll shock the hell out of Clover City—and maybe herself most of all."
This looks like quite the charming comedy that takes the familiar elements of movies like Miss Congeniality and Drop Dead Gorgeous but mixed them up with some of the attitude that made Patti Cake$ stand out in the Sundance crowd back in 2017. With The Proposal director Anne Fletcher behind the camera, it should have plenty of solid laughs too.
Dumplin' also stars Odeya Rush (Lady Bird), Dove Cameron (Agents of S.H.I.E.L.D.) and Harold Perrineau (Lost), and it hits Netflix and select theaters on December 7, 2018.