'Fighting With My Family' Trailer: Florence Pugh Heads To The WWE With The Rock As Her Mentor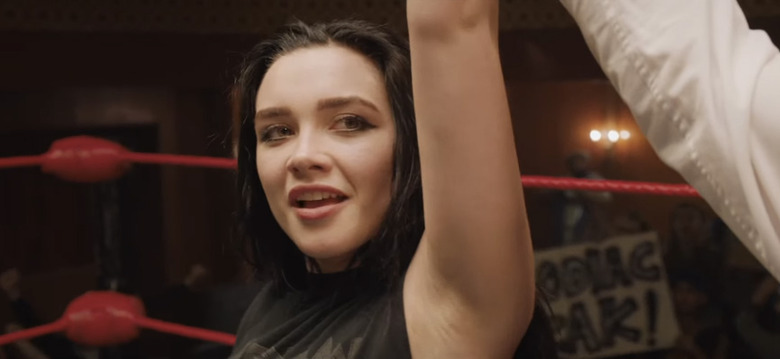 Did you ever dream of becoming a professional wrestler when you were a kid? Well, in the new comedy Fighting with My Family, British siblings Paige (Florence Pugh) and Zak (Jack Lowden) certainly did, and it's not something that they've given up even as they've grown into adults. It just so happens that dreams sometime come true, even in 2018, because they get the call from the WWE to come try out for the big leagues. And they somehow get taken under the wing of Dwayne "The Rock" Johnson. But as the Fighting with my Family trailer shows, they're not both going to become WWE Superstars.
Fighting with My Family Trailer
We've heard almost nothing about this movie at this point, but that makes it that much more surprising. Honestly, as someone who couldn't give a damn about wrestling and only just found out this was inspired by the true story of WWE wrestler Paige, I found myself really enjoying this trailer. At first I thought it was going to be some kind of British version of Four Christmases, but then it turns into a much better version of Ready to Rumble, likely thanks to the fact that it's somehow directed by Stephen Merchant, the co-writer/co-director of the original British version of The Office.
Wrestling fans will surely love seeing Dwayne Johnson back in "The Rock" mode, spouting off the signature catchphrases that used to make arenas cheer for him during his own WWE days. There's a huge fanbase who turns out for every single wrestling match, and they'll certainly be heading to theaters to catch what looks like the best movie that WWE Studios has ever made. Yes, even better than The Scorpion King and Jingle All the Way 2. Though it might not be better than Oculus (yes, that's a WWE Studios movie too).
The rest of the Fighting with My Family cast includes a few interesting names as well with Lena Headey and Nick Frost playing Paige and Zak's parents, and Vince Vaughn having a role over at the WWE.
Based on a true story, Fighting with My Family follows reformed gangster Ricky, wife Julia, daughter Paige and son Zak as they make a living wrestling together in tiny venues. When Paige and Zak get the opportunity to try out for WWE, the family grabs a once-in-a-lifetime chance to turn their wildest dreams into a dazzling future. However, brother and sister quickly discover that to become superstars, both their talent and their relationship will be put to the test. Fighting with My Family is a heartwarming and smart comedy that proves everything is worth fighting for when it comes to family.
Fighting with My Family hits theaters on February 22, 2019.