'Aquaman' Featurette Takes You Under The Sea And Beyond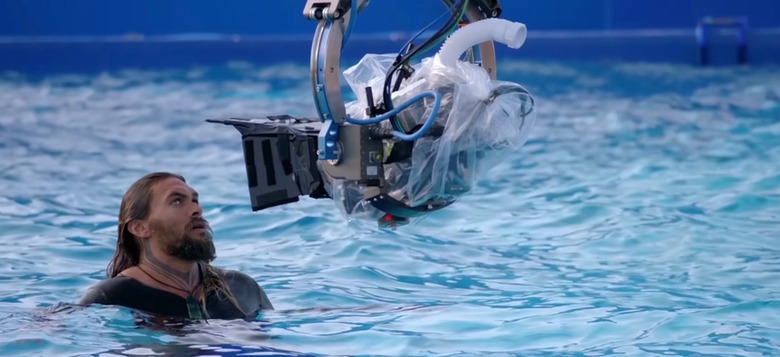 Dive down under the (special-effects created) sea in a new Aquaman featurette. Here, director James Wan takes us through several of the fantastical underwater worlds the film is set in. The running theme here, from Wan and the cast, is that Aquaman is going to take audiences to places they've never been before. Big, bold and strange are the three elements the superhero film seems to be going for. Watch the Aqauman featurette below.
Aquaman Featurette
As a wise crab once said: "Under the sea. Under the sea. Darling it's better, down where it's wetter, take it from me. Up on the shore they work all day, out in the sun they slave away. While we devotin', full time to floatin', under the sea." Those words come to life in Aquaman, a new action movie about a muscular fish-man, his bad-wigged girlfriend, and Nicole Kidman. James Wan is the filmmaker tasked with bringing Aquaman to life, and since he's Australian, he pronounces the title "Ak-wa-man", and it's just the cutest thing.
This featurette is a fun behind-the-scenes look at the film, and it underscores how much work went into crafting the wet and wild worlds on display. While filming underwater would be practically impossible (unless you're James Cameron), Wan and company took great care in creating their under sea vistas. But the waterlogged worlds aren't the only fantastical elements that needed to be conjured up. All sorts of elaborate costumes, sets and creatures had to be built from scratch. I don't know how Aquaman will turn out as a film, but I can tell that the movie is at least going for broke in terms of world building.
Aquaman has had a strange path to the big screen. For years, the character was seen as something of a joke – at least in the general public's eye – mocked for his ability to "talk to fish." Zack Snyder's Justice League attempted to rehabilitate him into a hard-drinkin', ass-kickin' Aqua-bro, as played by Jason Momoa. It didn't quite work, but now Momoa has a chance to lead his own film. Hopefully it'll work out. In the film, "Aquaman finds himself caught between a surface world that ravages the sea and the underwater Atlanteans who are ready to revolt."Aquaman, starring Jason Momoa, Amber Heard, Willem Dafoe, Patrick Wilson, Dolph Lundgren, Yahya Abdul-Mateen II, and Nicole Kidman, washes up on dry land starting December 21, 2018.