'Ophelia' Trailer: Daisy Ridley Is The Doomed Heroine Of 'Hamlet'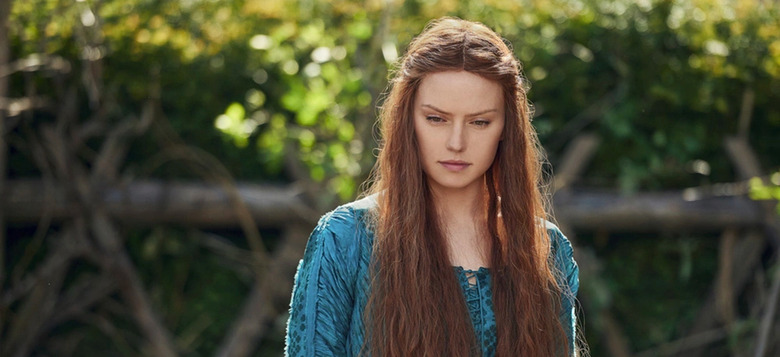 Shakespeare's Hamlet gets a new interpretation with Ophelia, a retelling of the famous tragedy through the eyes of another character. Daisy Ridley is Ophelia, who falls for the young Dane – a romance that goes haywire once Hamlet's father is murdered, driving the young man mad in the process (maybe). The Ophelia trailer below gives us a look at what just might be the entire movie, while also introducing us to Clive Owen's questionable wig.
Ophelia Trailer
I love Daisy Ridley, I love Hamlet, I love Shakespeare, and I especially love when people create new interpretations of Shakespeare's work. With all that in mind, I should be all over Ophelia, the new film from Claire McCarthy. But this trailer has me a bit nervous. For one thing, the look of the film is excessively bright, to the point where it's distracting. I get it: Hamlet is often thought of as a dark and brooding story, but this is Ophelia's tale, so a different look is required. But something looks off. In addition to that, this trailer runs through practically the entire movie. Sure, everyone knows the story of Hamlet at this point, but maybe save something for the final film? And then there's Clive Owen's terrible wig –what is going on there?
All that said, I want to like Ophelia, mostly because I'd like for Daisy Ridley to be in more films. But the film debuted to mixed reviews at Sundance, and it's taken a very long time for it to find its way to theaters. Perhaps it will all work out in the end, though. The "retelling Hamlet through a different set of eyes" angle reminds me of the excellent Rosencrantz and Guildenstern are Dead – although Ophelia looks far more serious. But Rosencrantz succeeded by adding something new to the familiar story. Ophelia appears to be just telling the same exact story from a slightly different angle.
Ophelia, starring Daisy Ridley, Naomi Watts, Clive Owen, George MacKay, and Tom Felton, doesn't have a U.S. release yet.
Something is rotten in medieval-era Denmark, where political intrigue swirls around the imperial court like dark magic. Amid it all, the queen's brightest lady-in-waiting, Ophelia, finds herself drawn to Hamlet, the charismatic and elusive crown prince. As their secretive love affair takes flight, betrayal strikes the court, threatening to derail their union and devastate the royal family for good. Caught between her desires and her loyalty, Ophelia has to decide where her devotion will ultimately lie.