'Sharp Objects' Creator Marti Noxon Heads To Netflix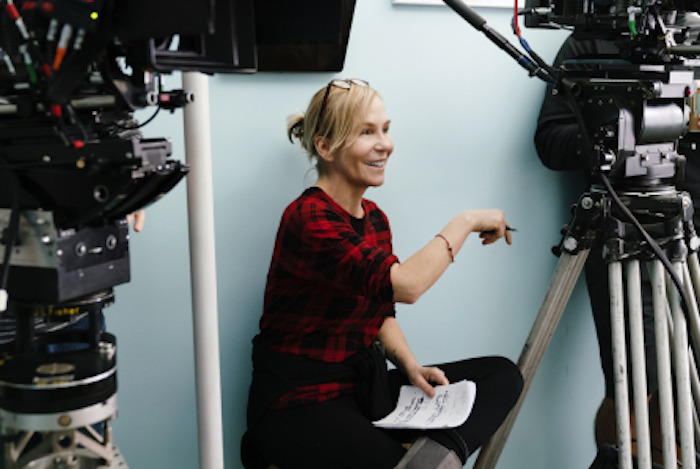 Netflix has scored its latest high-profile TV creator. Hot off the heels of her acclaimed HBO miniseries Sharp Objects, Marti Noxon has signed a multi-year overall deal with the streaming giant.
The Emmy-nominated writer, producer, and director may not be a huge household name, but Marti Noxon has accumulated such an impressive resume stretching back from cult series Buffy the Vampire Slayer to the Emmy-nominated UnReal that it's no wonder Netflix snapped her up. Now, fresh off creating the brilliant HBO crime miniseries Sharp Objects, based on the novel of the same name by Gillian Flynn, Noxon has signed a deal with Netflix, Variety reports. Noxon said in a statement:
"Who can resist the allure of Netflix? Not only do they continually produce ground-breaking and visually stunning content, they've developed a platform that's so influential its become a verb. I Netflix at home, happily, and now I'm even more excited to Netflix for a living."
Noxon is just the latest TV creator to sign a lucrative deal with the streaming giant. Netflix has scooped up Shonda Rhimes, Ryan Murphy, Cary Fukunaga, and even the Obamas for exclusive multi-year deals to create original content for the streaming service. While Netflix grows its treasure trove of talent and countless original titles, creators like Noxon, who has had a somewhat rocky relationship with broadcast networks, the space to create and experiment.
Noxon is one of the most exciting boundary-pushing female talents in the TV landscape today, starting out as a writer and then executive producer for Buffy the Vampire Slayer, where she became synonymous with the show's polarizing and radical sixth season. She still gets flack for it 16 years later, but totally owns it — just check out her Twitter bio. That's Noxon in a nutshell: a complicated, unapologetic female creator who loves writing complicated women. And she's done just that to plenty of acclaim recently, penning the Emmy-nominated Lifetime antiheroine series UnReal and creating AMC's sharp satire Dietland. She also recently made her feature directing debut with Netflix's To The Bone, which premiered in competition at the 2017 Sundance Film Festival. It seems that a partnership with Netflix would've happened in due course, and now it has.
"Marti Noxon is a brilliant and visionary creator who explores emotional depths to reveal the inner lives and struggles of complex, modern women," said Cindy Holland, vice president of original content at Netflix. "Her work is often both brave and vulnerable, with a distinct voice, sense of humor and tone that is uniquely her own."