'On The Basis Of Sex' Trailer: Felicity Jones Is The Notorious RBG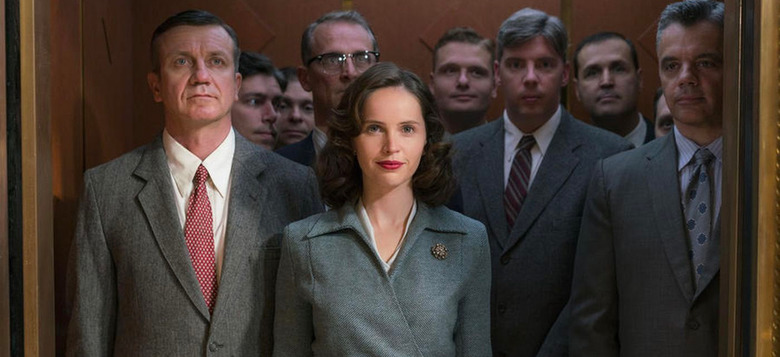 Ruth Bader Ginsburg has become a celebrity in ways no other Supreme Court Justice has before. Not only has she fought for just causes, she's also inspired memes, documentaries, and even action figures. And now she gets the origin story treatment with On the Basis of Sex. The film finds the young Ginsburg long before she became a Supreme Court Justice, working as a lawyer on a case involving gender discrimination. Watch the latest On the Basis of Sex trailer below.
On the Basis of Sex Trailer
Ruth Bader Ginsburg gave a lot of people a scare recently when she fell in her office and broke a few ribs. But because Ginsburg gotta Ginsburg, she was reportedly back up and working again the next day. It's that kind of dogged determination that has helped turned the 95-year-old Justice into something of a rock star. And it was only a matter of time before Hollywood came calling.
I'm sure sooner or later, the movies will get around to tackling Ginsburg's Supreme Court time. For now, we'll have to make due with On the Basis of Sex, a film that tracks Ginsburg's humble beginnings. Here, Ginsburg, as played by Felicity Jones, "teams with her husband Marty to bring a groundbreaking case before the U.S. Court of Appeals and overturn a century of gender discrimination." Armie Hammer plays Marty, and from the looks of things, Hammer seems delegated to the type of thankless supporting role so many actresses are forced to play. I'm not sure if this is intentional on the part of the filmmakers, but it's amusing nonetheless.
The case being argued here is Moritz v. Commissioner of Internal Revenue, which "challenging the denial of a dependent-care deduction allowed to women, widowers, or divorced men but denied to a single man who was caring for his ailing mother."
On the Basis of Sex hails from Mimi Leder (The Peacemaker, Deep Impact), a director who really doesn't work as often as she should. Will this film turn out well? I don't know. The early buzz has been rather muted, and it's hard to look at this as little more than Oscar bait for Jones. Yet, Ruth Bader Ginsburg remains a very important figure, and shining more light on her story certainly isn't a bad thing.On the Basis of Sex opens on December 25, 2018, just in time to mark Justice Ginsburg's 25th anniversary on the Supreme Court.