Small-Screen Stream: 'Homecoming,' 'Dietland,' And More Streaming TV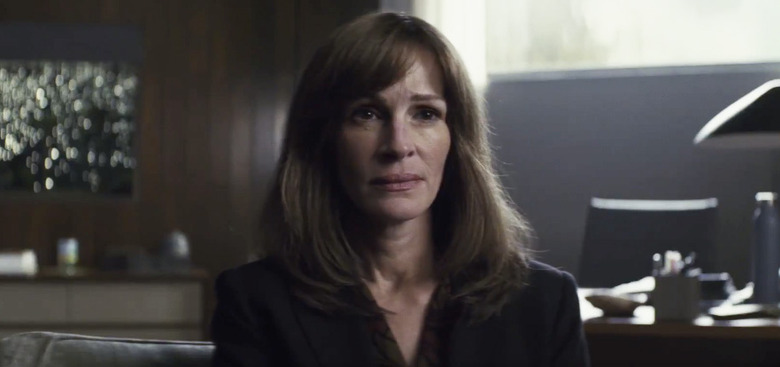 (Welcome to Small-Screen Stream, a feature where we share the best television shows streaming and where you can watch them.)
We're in that weird time of year where things have gotten cold, dark, and frankly pretty miserable outside, which welcomes the idea of long TV binges on the couch. We're also — luckily — living in a time when that's never been more feasible, as streaming services across the board are punching up their TV catalogues, seemingly preparing their patrons for the long, cold winter ahead. That's bad news for our vitamin D levels, but good news for our eyeballs and sanity.
For this week's Small-Screen Stream, I compiled a list of a few new original series, some great programs that just hit streaming, a few things you should definitely catch up on, and a healthy serving of comfort TV for the nights when you just want to turn your brain off and relax. Think of it like hot cocoa in the form of visual pleasure.
Homecoming, Season 1
Where To Watch: Amazon Prime
Created By: Eli Horowitz, Micah Bloomberg
Starring: Julia Roberts, Bobby Cannavale, Stephan James, Sissy Spacek
Julia Roberts stars in this adaptation of a popular podcast of the same name, about a mysterious testing facility for veterans that may or may not be what it seems. I honestly don't want to give a single thing away about this series, which unfolds in perfect 30-minute dollops, a maze of intrigue and oddities, and one that's chocked full of genre nods. Roberts has never been better than she is here, as Heidi Bergman, a caseworker at the Homecoming Transitional Support Center. Again, to say more is to give away the show's labyrinthine mystery. But trust me on this one: The payoff is worth the slow burn.
Dietland, Season 1
Where To Watch: Hulu
Created By: Marti Noxon
Starring: Joy Nash, Julianna Margulies, Tamara Tunie, Robin Weigert
Marti Noxon just signed a massive deal with Netflix, which is great for her, but sadly comes after the cancellation of this AMC series. Based on a book of the same name by Sarai Walker, Dietland tells the story of Alicia "Plum" Kettle (Nash), an overweight ghostwriter for a popular beauty site, Daisy Chain. Plum longs to be thin like the Daisy Chain girls and her bitter editor Kitty Montomgery (Margulies), and plans to get gastric bypass to bring her there. But before her surgery, she's roped into a world of feminism, terrorism, and rebellion against the impossible beauty and sexual standards imposed on women.
The show is kind of tricky to pull off, and it flounders here and there, but it deserved a second season to flesh out all of the amazing characters and webs it was spinning. Unfortunately, it'll never get that chance, but at least it can live on Hulu for now, working its peculiar magic on new viewers. I'll miss this strange show.
Making a Murderer, Part 2
Where To Watch: Netflix
Created By: Laura Ricciardi, Moira Demos
You're probably familiar with the case. Who isn't? I won't do much to rehash the first season of this extremely popular Netflix true crime series, except to say it follows a bizarre murder case in Wisconsin, involving a family, some possibly wrong convictions, and the potential flubs of the local police and prosecuting teams. The second season was released last month, in an attempt to explore the convictions of Steven Avery and his nephew Brendan Dassey for the murder of Teresa Halbach. It's fascinating to watch this story play out, and to see Ricciardi and Demos' obsession with the case span more than one timeline in its sprawl. If they keep it going, the series could wind up like the West Memphis Three's Paradise Lost films; an ongoing epic about the mishandling of small-town Americana murder cases.
The Deuce, Seasons 1-2
Where To Watch: HBO Now
Created By: George Pelecanos, David Simon
Starring: James Franco, Maggie Gyllenhaal, Gbenga Akinnagbe, Chris Bauer, Gary Carr
Pay no attention to its silly name. HBO's The Deuce is legit. I was initially turned off by the idea of James Franco, who plays twins in the show, but if you're in my same boat, worry not; Franco is the least interesting part of this story about New York City in the 1970s, when porn was newly legal and drugs were invading the streets. The women are the real lure of The Deuce. Maggie Gyllenhaal is fantastic as Candy, a Times Square sex worker who works her way up in the newly fledgling porn industry. Also fantastic are The Leftovers' Emily Meade as Lori and Dominique Fishback as Darlene, two young sex workers who also work the system. The second season wraps up this week, and the show will return next years for its third — and final — outing. Now's a great time to catch up.
Jeopardy!, Collections 1-2
Where To Watch: Netflix
Created By: Merv Griffin
Starring: Alex Trebek
See what I mean about comfort food TV? There's not much to say in this blurb about Jeopardy!, a show so foundational to the American TV screen that I'm sure the second you read the word, the theme music popped into your head. Netflix recently added two collections of the series, which is the perfect thing to pop on while you eat dinner or lure to sleep. Bonus points: You'll learn something new every time.
Room 104, Seasons 1-2
Where To Watch: HBO Now
Created By: Mark Duplass, Jay Duplass
Do the Duplass brothers ever sleep? The hard-working team have seemingly dozens of projects to juggle at once, and they do them all deftly and impressively. This HBO anthology series is clever as hell: Set in a New York motel, every episode is a different tale about the people who pass through the eponymous room. (Think Bad Times at the El Royale: The TV Series.) The show delves into different genres, and features an impressive lineup of guest stars: Orlando Jones, James Van Der Beek, Mae Whitman, Nat Wolff, Philip Baker Hall, Rainn Wilson. The show also works as a great exercise for up-and-coming filmmakers, which according to Mark Duplass, was part of its conception. The second season just started, so I highly recommend catching up, especially if that HBO Now subscription is burning a hole in your pocket.
Haunted, Season 1
Where To Watch: Netflix
Created By: Brett-Patrick Jenkins
There's some contention in the online communities right now about whether or not this new Netflix show — which presents itself as a documentary series — is actually a fabrication. For one, the family in episode 2, "The Slaughterhouse," don't have a last time, they never reveal their true location, but claim their patriarch is a serial killer that offed possibly hundreds of people. The show's producers have been vocal that the series is true, but anything is possible these days. You can make your mind up for yourself by checking out Haunted's 6-episode first season. (I'm not sure where I stand on this one just yet.)
Bob Ross: Beauty is Everywhere, Season 1
Where To Watch: Netflix
Starring: Bob Ross
We all love Bob Ross. And if you're like me, we all love to fall asleep to Bob Ross. Netflix recently posted this collection of Ross segments and it's exactly what you'd expect: ASMR-like landscape sessions that are so peaceful and kind, it's easy to forget every horrible thing happening in the real world. Do yourself a favor and zone out to a few episodes of this per day. You deserve it.
Married… With Children, Seasons 1-11
Where To Watch: Hulu
Created By: Michael G. Moye, Ron Leavitt
Starring: Ed O'Neill, Katey Sagal, David Garrison, Amanda Bearse, Christina Applegate
Hulu just acquired every season of this stone-cold sitcom classic, about the Bundys, a suburban Chicago family and their daily antics. Patriarch Al (O'Neill), a one-time high school football star, is now a downtrodden shoe salesman, married to Peggy (Sagal), a lazy, TV-obsessed housewife who is constantly running her husband into debt. It's familiar sitcom territory; they're constantly getting into trouble of Al's making, and figuring it out with the help — or lack thereof — of their teenage children and neighborhood friends. It's been a while since I've revisited this series, but when it popped up on my homepage, I felt a pang of excitement. I used to watch it Saturday mornings as a kid, and can't wait to do that again now that it's available in its entirety.
Degrassi: The Next Class, Seasons 1-4
Where To Watch: Netflix
Created By: Linda Schuyler, Yan Moore, Stephen Stohn, Sarah Glinski, Matt Huether
Starring: Nikki Gould, Eric Osborne, Amanda Arcuri, Ana Golja, Sara Waisglass
I'm a child of Degrassi: The Next Generation, the beloved Canadian teen series that gave us the gift of Drake, so I was always open to possibly loving Netflix's franchise rebirth. The Degrassi shows date back to the 1980s, with new iterations for every generation since. The show's tagline — "it goes there" — is totally appropriate for a series that delves into every possible taboo subject you can imagine: teen pregnancy, LGBT+ issues, feminism, abortions, school violence, blackmail. The new version — where every episode title is literally a hashtag — doesn't lighten up on these issues, but refocuses them for its Generation Z audience. Whatever it takes!
Being Erica, Seasons 1-4
Where To Watch: Amazon Prime
Created By: Jana Sinyor
Starring: Erin Karpluk, Michael Riley, Tyron Leitso, Vinessa Antoine
Another Canadian show! I used to love Being Erica, and was thrilled to see it nestled in the annals of Amazon Prime. It's sort of a therapeutical comedy sci-fi, about a woman who starts seeing a new therapist who has the ability to send her back in time to correct the problems she brings to him. I'm sure its content would drive any real psychological professional crazy, since it implies simply redoing past problems is better than working through them and growing, but whatever, it's a fun show! I never followed it too closely and never finished every episode, so I look forward to jumping back into it when I need some good ol' Canadian levity.
Superstore, Seasons 1-4
Where To Watch: Hulu
Created By: Justin Spitzer
Starring: America Ferrera, Ben Feldman, Lauren Ash, Colton Dunn
There's something really delightful about a quiet weekly network sitcom that does fun things with normal characters, featuring stories anyone might relate to. I have a soft spot for NBC's Superstore, about a group of employees at Cloud 9, a big-box store in St. Louis. Like The Office before it, the show tells simple stories about these middle-Americans, including daily work hijinks, the friendships and love affairs that spring up in work environments, and workplace hierarchies. It's not exactly reinventing the wheel, but it's a charming show, with the lovely America Ferrera at the center. What's not to love?