'Bird Box' Early Buzz: Sandra Bullock Is A Bright Spot In Netflix Post-Apocalyptic Horror Film With No Vision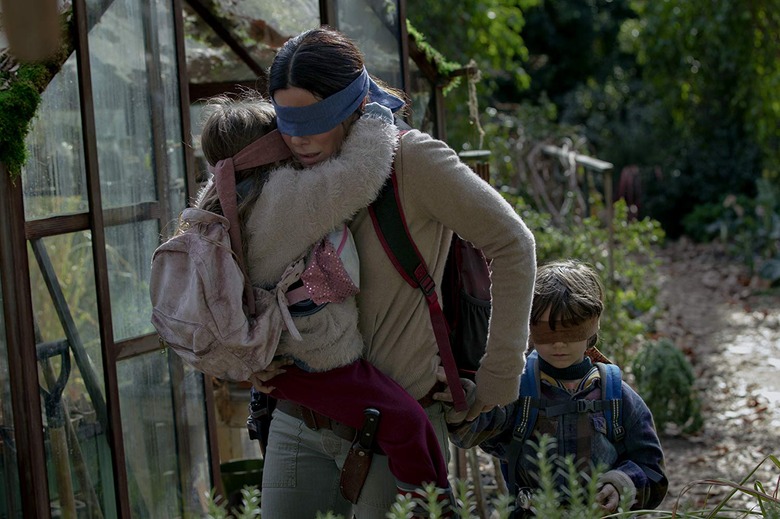 Netflix recently made the unprecedented decision to release three of its Oscar contender films in theaters before they hit streaming. Two of which were expected — Alfonso Cuaron's Oscar frontrunner Roma, the Coen Brothers' anthology Western The Ballad of Buster Scruggs — but the third was something of a question mark: Bird Box starring Sandra Bullock and directed by Danish filmmaker Susanne Bier (The Night Manager). Right off the bat, Bird Box doesn't seem like an Oscar movie, but the theatrical release of the film kind of makes sense: it stars an Oscar winner, is directed by a foreign film Oscar winner, and is a apocalyptic horror film that recalls this year's smash hit, A Quiet Place.
But is the Bird Box early buzz actually good? Here is what critics who saw the film at its world premiere at the AFI Film Fest have to say about the film.
Variety dings Bird Box for withholding the appearance of the film's main monster and scoffs at the comparisons to John Krasinski's acclaimed horror hit, saying the film "has been (misleadingly) compared to A Quiet Place, only that film had real monsters, genuine suspense, and a much more intuitive set of rules for survival":
The Danish director, who is one of the few contemporary helmers who's been able to play real-world melodrama as life-and-death horror (as she did so brilliantly in "Brothers" and "After the Wedding"), has yet to achieve the same trick in English. Heisserer's script endeavors to give Bullock a rich psychological backstory to play — something to do with her reluctance to accept motherhood and the redemption she experiences in accepting that role — and the wonderfully self-reliant actress plays that arc earnestly enough. But there's no getting around that this is a monster movie without a monster. Netflix, which plans a limited theatrical run on Dec. 13 before streaming "Bird Box" for its members two weeks later, should be able to lure a fair number of eyeballs via the cast alone. Just be forewarned: In this case, what you see is what you get.
ScreenDaily calls Bird Box "appreciably bleak but also sluggish, never fully fleshing out the themes at the story's core," adding:
Often, a dystopian drama uses its despairing setting to explore something elemental about existence — usually exploring the bonds of family or community — but Bird Box is surprisingly simplistic in its thematic undercurrents. Outside of its admiration for mothers, Bier's film seems to only vaguely hint at other ephemeral ideas, and as a result Bird Box is a curiously hollow experience. One of the reasons such movies are so prevalent is that, perhaps deep down, we all wonder what humanity's worst-case scenario might look like. Bird Box stumbles blind through this landscape.
The Hollywood Reporter was disappointed that the film was "not all it might have been," writing:
Ultimately, no matter how high-minded a view of the material Heisserer and Bier may have held, this is deep-dish popular material that feels shortchanged in terms of suspense, scares and thrills. For her part, Bullock seems to have placed a foot in each camp, as she has done on occasion in the past, but she's rather underserved by a writer and director perhaps uncertain about how to maximize the piece's genre potential while simultaneously keeping it smart.
But The Wrap had the one positive review out of the AFI festival, especially praising Bullock's "brilliant" performance:
For generations, the picture of motherhood has been that of a woman who connects with her child immediately, who is openly loving and soft. Motherhood today is not as simple. There are real dangers that our children face daily, simply by walking outside. There's no new handbook to teach us how to prep our kids in case their school is taken over by a shooter, nor is there a guide on how to lead our children when we ourselves are uncertain of what the future holds. We're all fumbling into this new parenthood blindly, hoping that we're raising smart and strong kids while also allowing them to experience the joys of childhood, and it's that innate understanding of parenthood that makes Bullock's performance feel real. It's equally fascinating and terrifying to watch.
All of the reviews were effusive in their praise of Bullock, who unsurprisingly delivers another gripping performance as a mother struggling to raise her children in a world beset upon by unseen monsters. But they were divided on whether Bird Box's slow pace was sluggish or atmospheric. For now, it seems like Bird Box may not be as a strong Oscar contender as Roma or even The Ballad of Buster Scruggs, which also met a lukewarm reception.
Bird Box is set to hit select U.S. theaters a week before its worldwide premiere on Netflix on December 21, 2018.