'Gloria Bell' Trailer: Julianne Moore Finds Love And Lives Her Best Life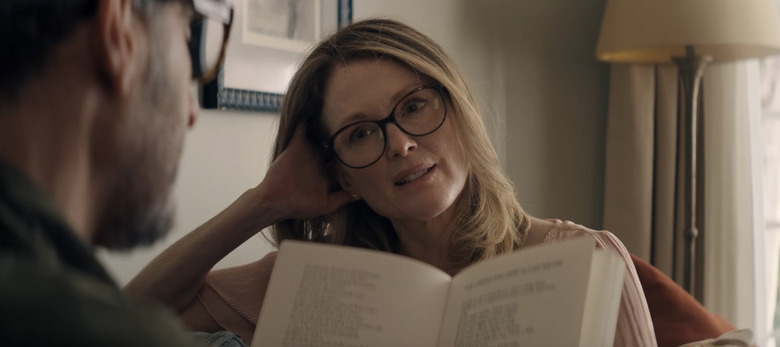 Hollywood has always had a problem with giving women leading roles once they start hitting their 40s and 50s. Obsessed with the fresh-faced, young women pouring into Los Angeles everyday, it's one of the more shameful sides of show business. But thankfully that's started to change a bit with great roles for women of all ages, and A24 has just released the first trailer that gives Julianne Moore one of those fantastic roles.
Gloria Bell (Julianne Moore) is a divorced woman just trying to meet the right man all over again, hitting up night clubs, dancing like no one is watching, and living her best life. That's when she meets Arnold (John Turturro), and it looks like everything is coming up Gloria. At least at first. See what happens in the Gloria Bell trailer below.
Gloria Bell Trailer
A Fantastic Woman helmer Sebastián Lelio is behind Gloria Bell, which is a remake of his own Chilean film Gloria from 2013. Funnily enough, the trailer shows that John Turturro's character Arnold has some jealousy when it comes to Gloria's ex-husband (Brad Garrett), but the official synopsis reveals that Arnold isn't exactly free of the grip of his ex-wife:
Gloria adores her adult children (Michael Cera and Caren Pistorius), but she's interested in being more than a grandmother. She loves to spend her evenings dancing in singles clubs, hoping to meet Mr. Right. It all seems to be falling into place when she meets the recently divorced Arnold (John Turturro), who falls for her bright smile and sees the beauty behind her oversized glasses. But Arnold's ex-wife and grown-up daughters have an unhealthy hold on him, and it seems he doesn't know how to let go of the past – or his incessantly ringing mobile phone.
That's not something shown in the trailer, but it certainly makes for an interesting dynamic between the two. But they're not the only ones who make the film worthwhile. The rest of the cast also includes Michael Cera, Caren Pistorius, Jeanne Tripplehorn, Rita Wilson, Sean Astin and Holland Taylor.
As for the film itself, our own Marshall Shaffer saw the film at TIFF and said it's basically "the Julianne Moore show," but the director lets it all unfurl genuinely. His review adds, "Through some repeated frustrations, Gloria learns to find the deepest satisfaction of all by loving herself. Thankfully, for a movie where the biggest battles take place inside Gloria's heart and mind, Lelio lets her crucial moments play out quietly and internally. There's not really an awards show-ready acting clip for Moore – just a steady stream of authentic character work."
Gloria Bell hits theaters on March 8, 2019.