'Alita: Battle Angel' Trailer: Alita Dives Headfirst Into The Fight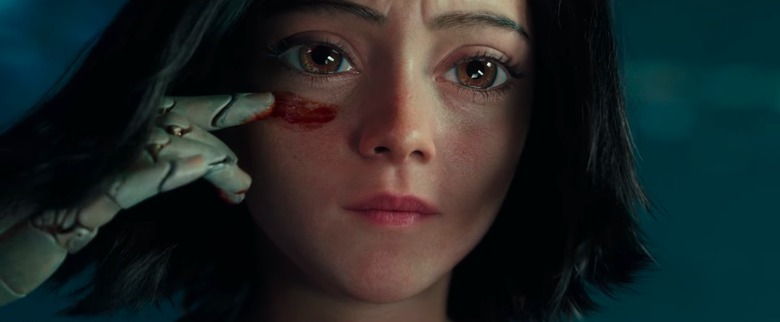 20th Century Fox has released the most action-packed trailer yet for Alita: Battle Angel. In addition to some breathtaking action sequences, new Alita: Battle Angel trailer gives us a first glimpse at the deadly sport of Motorball, the popular and hyperviolent gladiatorial contest that was a central part of the manga upon which the Robert Rodriguez film is based.
Alita Battle Angel Trailer
Alita: Battle Angel may have had a lengthy road to the big screen, plagued by production delays that resulted in now-producer James Cameron leaving the director's chair, as well as release date delays. But the visuals of this film at least hold up, with Rodriguez using advanced motion capture techniques to create photo-real characters. This is never more clear than in the Motorball scenes in the trailer, which show Alita, a damaged droid who turns out to be a trained fighter, in the thick of a gladiator match. The new trailer also gives us a glimpse of the budding romance between Alita and Hugo (Keean Johnson),
Based on the manga by Yukito Kishiro, Alita: Battle Angel follows a scientist (Christoph Waltz) in a distant-future Earth who discovers a damaged cyborg named Alita (Rosa Salazar) and decides to take her under his wing as a surrogate daughter. The cast includes Mahershala Ali, Jennifer Connelly, Ed Skrein, Michelle Rodriguez, and Jackie Earle Haley.
Here is the official synopsis for Alita: Battle Angel:
From visionary filmmakers James Cameron (AVATAR) and Robert Rodriguez (SIN CITY), comes ALITA: BATTLE ANGEL, an epic adventure of hope and empowerment. When Alita (Rosa Salazar) awakens with no memory of who she is in a future world she does not recognize, she is taken in by Ido (Christoph Waltz), a compassionate doctor who realizes that somewhere in this abandoned cyborg shell is the heart and soul of a young woman with an extraordinary past. As Alita learns to navigate her new life and the treacherous streets of Iron City, Ido tries to shield her from her mysterious history while her street-smart new friend Hugo (Keean Johnson) offers instead to help trigger her memories. But it is only when the deadly and corrupt forces that run the city come after Alita that she discovers a clue to her past – she has unique fighting abilities that those in power will stop at nothing to control. If she can stay out of their grasp, she could be the key to saving her friends, her family and the world she's grown to love.
Alita: Battle Angel opens in theaters on February 14, 2019.