'Star Wars Resistance' Will Run Parallel To 'The Force Awakens' And Possibly Beyond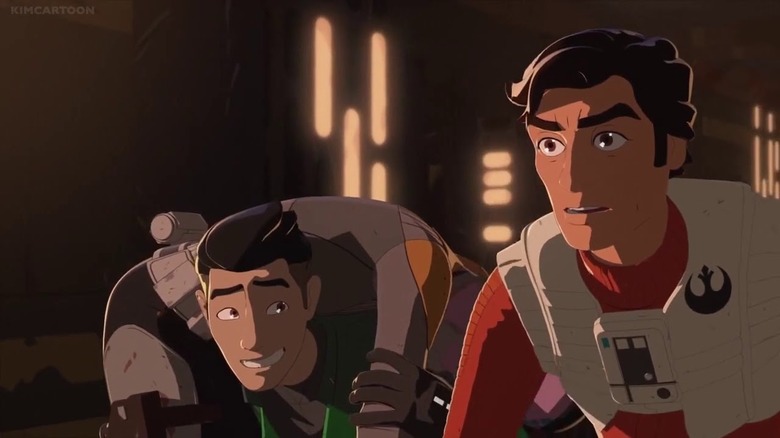 Despite the appearances of some familiar faces like Poe Dameron (Oscar Isaac) and Captain Phasma (Gwendoline Christie), it was never quite clear when exactly Star Wars Resistance takes place. Now, a new report reveals that the timeline of the Disney Channel animated series from Star Wars Rebels executive producer Dave Filoni will take place around the same time as Star Wars: The Force Awakens, and possibly run parallel to the rest of the new Star Wars trilogy.
A month into the first season of Star Wars Resistance, we finally find out when exactly the newest Star Wars animated series takes place. We knew that it takes place prior to the events of Star Wars: The Force Awakens at a time when the First Order was merely a shadowy organization beginning to accumulate power while the Resistance did their best to stay one step ahead of the dangerous group. But that could have been five or ten years before we meet Rey, Finn, and Poe. It turns out, it wasn't that long ago.
In the newest behind-the-scenes episode "Resistance Rewind" released by the official Star Wars YouTube channel, executive producer Justin Ridge lets slip that Star Wars Resistance takes place six months before the events of The Force Awakens, revealing:
"Because this series takes place six months before The Force Awakens we have a lot of connective tissue to what we see in the movie. So, eventually our events in the show will parallel what happens in the movie."
The most intriguing bit of information from Ridge's reveal is that Star Wars Resistance could eventually run parallel to the rest of the trilogy, meaning we could see events unfold from Star Wars Episode 9 from the point of view of the rookie Resistance pilot Kazuda "Kaz" Xiono and the rest of the lesser-known characters from the series. Maybe we could even get hints at what happens in Episode 9 if the series does eventually catch up.
Star Wars Resistance currently airs on Disney Channel on Sunday nights at 9:00 p.m. ET/PT.
Resistance fighter Poe Dameron tasks young pilot Kazuda "Kaz" Xiono with spying on the First Order. At the time, little was known about the secretive organization and its strength.
In order to fulfill his mission, Kaz travels to the space station Colossus, which is being used by many ships as a port to refuel and do repairs. However, there are also dangerous races taking place there. After Kaz bragged with his piloting skills at his arrival there, he is soon drawn into one of the races...