John Lasseter Looking For A New Hollywood Job, Has Expressed Interest In Podcasting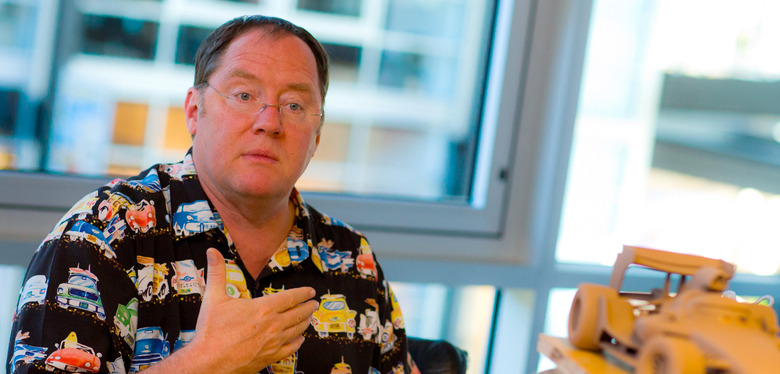 It's been nearly a year since John Lasseter announced that he would be taking a leave of absence from Pixar Animation as a way of getting ahead of any complaints about possible sexual misconduct. In reports that followed, Lasseter was accused by several Pixar employees of "grabbing, kissing, and making comments about physical attributes." Since then, it was announced that Lasseter would not be returning to work at Disney, and his last day would be at the end of the year.
Now that John Lasseter's work at Disney is officially ending, word on the street is that he's out looking for a new job elsewhere in Hollywood. This raises questions about how (or rather if) the industry should support or allow these kind of comebacks from disgraced individuals who have been accused of sexual misconduct, especially if it's happened on more than one occasion.
In a recent report from The Washington Post about some of the big changes happening in the animation industry, the status of John Lasseter was mentioned. The article says, "The executive has been looking to reenter the entertainment business just months after his ouster, according to two people with knowledge of his thought process."
Lasseter had a two-hour meeting with talent agency WME Entertainment where he "gave his side of the accusations and outlined his hopes for his next act." The specifics of that meeting were not disclosed, nor were his plans for a possible comeback after leaving Disney, but Cartoon Brew noticed that Lasseter has already been taking meetings around Hollywood, possibly with an eye towards getting back into animation somehow.
This is a very precarious situation. Lasseter was accused of several instances of sexual misconduct, with a number of Pixar employees having stories about his behavior, not to mention creating an uncomfortable work environment for plenty of female employees at Pixar. So how much time needs to pass before Lasseter should be given another chance to collaborate with people in Hollywood again? Even convicted criminals get a chance at redemption, but the question is who decides when it's appropriate and sensible for a person like this to re-enter the work place? (For many people, the answer to this question will be "Never" and that's an entirely understandable position to take.)
The answer would seem to be when anyone is willing to work with and hire the person in question. And considering John Lasseter is responsible for building Pixar Animation into what it is, not to mention being one of the acclaimed creative minds behind some of their most popular stories, there are plenty of people who haven't been wronged by Lasseter who are willing to give him a shot. We can only hope that those companies will speak to their employees to make sure it's something everyone is comfortable with.
However, if Lasseter is deemed unworthy of returning to animation and getting back in Hollywood's good graces, apparently he has taken up an interest in podcasting. Perhaps Lasseter has an eye towards doling out creative advice or speaking with animation experts about the medium in-depth.
How do you feel about a possible John Lasseter comeback?