Michelle Yeoh In Talks To Take The Helm In 'Star Trek' Spin-Off Series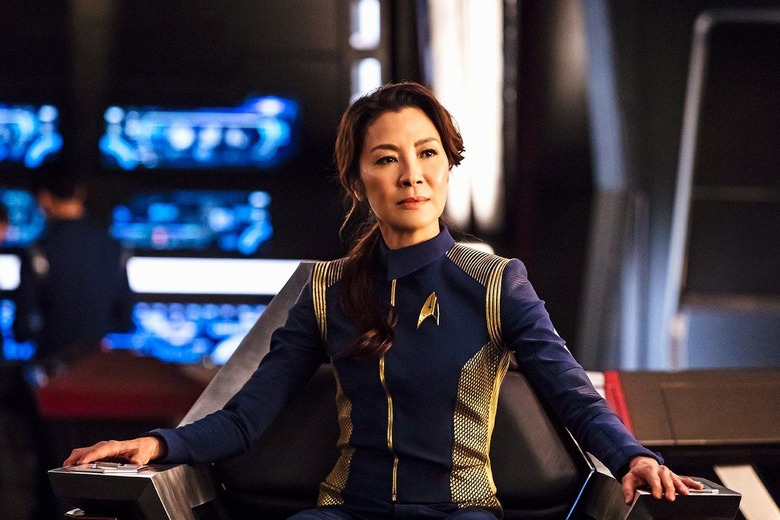 Michelle Yeoh could soon be at the helm of her own Star Trek spin-off series. Hot off the blockbuster success of Crazy Rich Asians, the actress is set to reprise her role as Captain Philippa Georgiou in the second season of CBS All Access' Star Trek Discovery. Now, reports say that Yeoh's Captain Georgiou could take the helm in her own spin-off show.Deadline reports that Yeoh is in talks to star in a Star Trek spin-off series as Captain Emperor Georgiou, the Mirror Universe version of her character Captain Philippa Georgiou who was introduced early in season 1. The spin-off would reportedly be a standalone series that would "focus on the on a continuation of her Discovery Season 2 adventures in Starfleet's Section 31 division," a secretive and autonomous organization that was first introduced into Star Trek mythology in the 1990s through the Star Trek: Deep Space Nine series.
The seeds for a Captain Georgiou spin-off have been planted since Yeoh teased a season 2 storyline of Georgiou's recruitment into Section 31 at New York Comic-Con in October.
Deadline notes that a Georgiou spin-off is "one of several ideas being pursued by Discovery EP Kurtzman's Secret Hideout and David Stapf's CBS TV Studios for the multi-project, multi-year Trekverse expansion." Star Trek Discovery is simply the launching point for a full-blown Trek TV universe that will be hosted on CBS All Access. "My goal is that there should be a Star Trek something on all the time on All Access," Stapf told Deadline in August.
If a Captain Georgiou spin-off were to go through, it would join the upcoming untitled Picard series along with the recently announced half-hour adult animated comedy series Star Trek: Below Decks and the currently-airing Star Trek: Short Treks.
CBS has not yet commented on the reports of a Georgiou spin-off. However, it should also be noted that Yeoh is going to be in-demand for the foreseeable future after the monster success of Crazy Rich Asians, for which Warner Bros. has already begun developing a sequel, which could limit her availability to commit as a series lead. But still, if anyone is deserving of a spin-off, it's Yeoh, whose screen presence and sheer star power could be enough to fuel a whole starfleet.