Liev Schreiber Hosts The Best 'Saturday Night Live' Of The Season (So Far)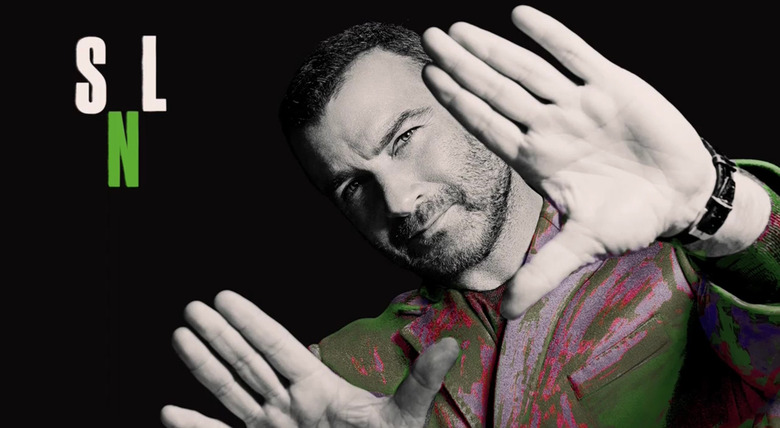 Even though the Showtime series Ray Donovan started all the way back in 2013, apparently it took five years for Lorne Michael to decide that Liev Schreiber deserved a chance to host Saturday Night Live. Even the host himself said that in his dreams he saw this happening a lot earlier in his career. But here we are in 2018, and Liev Schreiber not only hosted SNL, but early in the season, he's hosted the best episode so far.
Let's break down the best and worst sketches of the Liev Schreiber hosted Saturday Night Live.
The Best
Brothers – Beck Bennett and Kyle Mooney have been friends for so long, and their chemistry and close bond is a big part of what made this sketch so silly and hilarious. The two comedians give it their all while portraying a couple of rascally middle school brothers who have been wrestling in their tighty-whities and t-shirts with the Looney Tunes looking like street tough gang members. They way they huff and puff while arguing, not to mention looking ridiculous soaking wet, it's no wonder Cecily Strong and Aidy Bryant could barely keep a straight face.
Paranormal Occurrence – The last time Kate McKinnon reprised this character, it didn't go over nearly as well as her first appearance in the hilarious alien abduction sketch with host Ryan Gosling. But this time around, an edition of the sketch about a paranormal occurrence came pretty close to the greatness of the sketch, and for a lot of the same reasons as the first rendition. Liev Schreiber breaks a few times, but he still stays dedicated to his soft-spoken character who loves shrinking movies.
Invest Twins – In many ways this sketch feels timeless. It's a classic kind of comedy where there's a misunderstanding throughout the sketch that makes the continuing dialogue that much funnier. Making the laughs even bigger are the attempts to fix the problem having no impact on just how awful this story about the "incest" twins comes off. The wordplay here is fantastic, and even the graphics imagery help heighten the comedy. It's just great comedy writing.
Permission – In the age of #MeToo, are rappers getting any more respectful with how they treat women? When it comes to the Booty Kings and Uncle Butt (featuring Lil Wayne and Future), they still seem to be up to their old antics of loving and complimenting ladies' butts, but only if the women are cool with it. You see, the Booty Kings always ask for permission, and they're allies in today's climate. This sketch and song are both so well-produced that it comes close to feeling like the greatness of a good Lonely Island music video.
The Average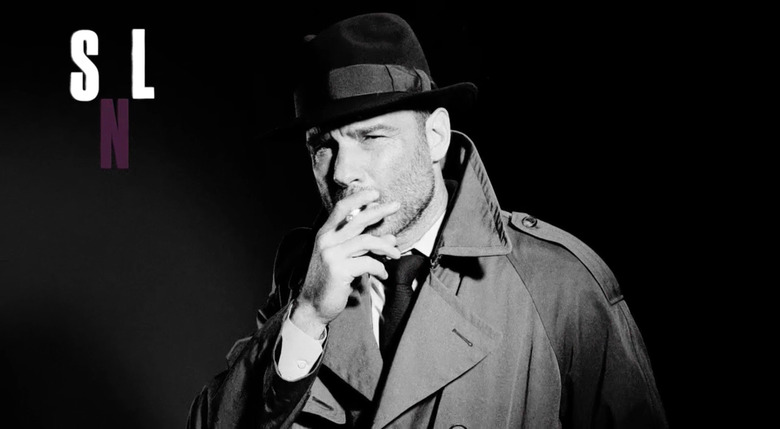 House Hunters – Honestly, this was close to being among The Best sketches, but I didn't want to seem overeager. But this sketch is not only a solid parody of House Hunters, but it also has an absurdist quality to it that feels reminiscent of The Naked Gun or Airplane!. The details of the houses and the conversation between Liev Schreiber and Leslie Jones also adds to the ludicrous comedy here. It's great!
Jeff Sessions Farewell – Jeff Sessions got fired last week, so of course he had to be sent off on SNL. Thankfully, they smartly decided to do it without Alec Baldwin as Donald Trump, but they sent in some great choices to say goodbye to the little rodent Attorney General. Mikey Day and Alex Moffat as Donald Trump Jr. and Eric Trump come out from behind the Weekend Update desk, and Robert De Niro closes the sketch with an ominous goodbye as Robert Mueller. Not one of their best efforts, but Kate McKinnon's oblivious Southern innocence as Jeff Sessions goes a long way to sell it.
Unity Song – This sketch idea is good in theory, but when you compare it to the other music video of the night, it pales in comparison so much that by the time the "Permission" sketch rolled around, I'd completely forgotten about the "Unity Song." Furthermore, even though the idea of political enemies bonding over the common little things we hate is an amusing concept, it really doesn't feel like the right time. It's kind of hard to ignore our larger differences at hand, especially when Donald Trump is so partisan that he's taking the fire's side as California wildfires burn.
The Worst
The Poddys – Good lord, this sketch was way too long. Halfway through I couldn't believe it was still going on, especially because of the niche audience that it plays to. It's an musing sketch idea, to be sure, but it didn't need to go on this long, and that's what really hurt it in the end. The only redeeming factor was Cecily Strong's returning impression of Sarah Koenig and Liev Schreiber showing off a pretty solid Michael Barbaro impersonation too.
Outside the Women's Bathroom – Well, this sketch was an odd one, and it never really went anywhere. Liev Schreiber fumbled a little bit in the beginning, and while it didn't hurt the sketch overall, it just didn't arrive at any hilarious moments.
Weekend Update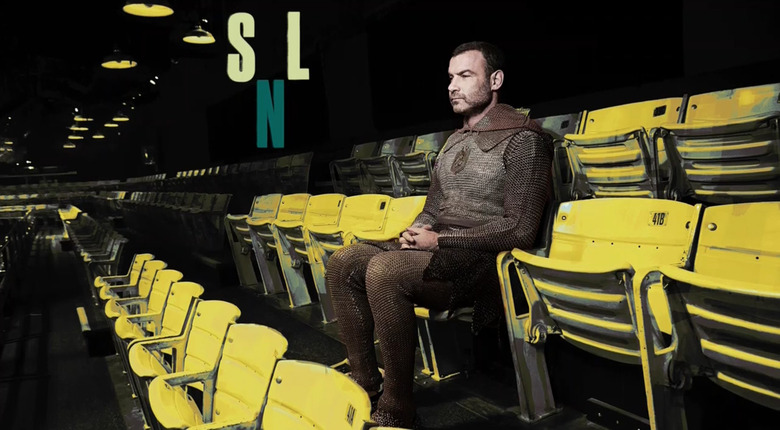 There was plenty to talk about from this week's headlines, but again, the political satire part of Weekend Update felt a little tame. Michael Che and Colin Jost didn't come close to skewering the political arena nearly as well as the other late night comedians from the week before. But even so, as usual, there are some solid one-liners.
White House Press Intern – This is mostly a physical gag, and it's surprising how long it goes on, but Cecily Strong does quite a fine job of capturing the physical presence of the intern who tried to take the microphone away from Jim Acosta during the highly publicized press conference where Donald Trump was a petulant child. It felt like it was a little desperate to be part of the topical joke line-up, but again, Strong did make it work pretty well.
Pete Davidson Apologizes to Lt. Com. Dan Crenshaw – On the surface, it's nice to see Pete Davidson be mature and responsible enough to recognize when he's crossed a line by mocking a politician who happens to be a veteran. After controversy stirred about a joke Davidson made about Lt. Com. Dan Crenshaw's appearance due to an eye injury he sustained during his service, Crenshaw was brought in to bury the hatchet. While it's a sobering moment of unity, let's not forget that even though Dan Crenshaw is a veteran who deserves respect for his service, his political record deserves anything but that. So yeah, never forget (in more ways than one).
The Host
When Liev Schreiber was announced to host Saturday Night Live, it came completely out of left field. Not only is Liev Schreiber known for being a dramatic actor, but it's not as if Ray Donovan is a show as big as Game of Thrones or something like that. But it turned out to be a great decision, because Liev Schreiber brings the same kind of pathos to the show that Ryan Gosling does, playing a character to its full potential while also allowing himself to have fun with the cast of Saturday Night Live. Schreiber seemed a little awkward and nervous during the monologue, but he definitely got more comfortable as the night went on.
The MVP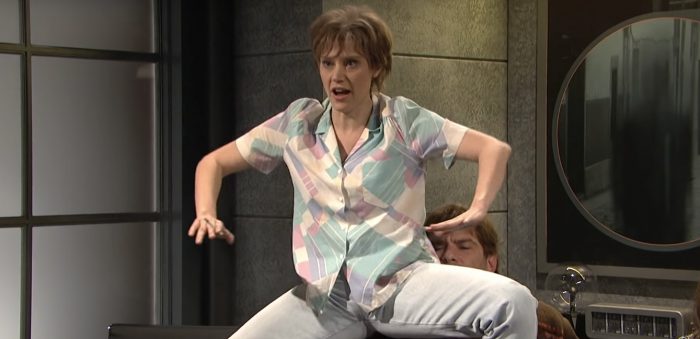 Kate McKinnon – Between the "Paranormal Occurrence" sketch and her outstanding portrayal of Jeff Sessions, it should come as no surprise that Kate McKinnon was the MVP of the night. Her physical comedy is every bit as important as the voices she puts on for these characters, and she always knocks it out of the park.
On another note, Cecily Strong deserves a special shout for this episode too. While she was only a small part of the funnier sketches of the night, she had some incredible comedic moments as well.
The Final Word
Who would have thought Liev Schreiber would host the best SNL of the season so far? Next week we go back to having a comfortable comedian on the show with Steve Carell hosting, and since that will be the November 17 episode before Thanksgiving, there should be some fun faces stopping by to have fun with him.