Paramount Ranch, Filming Location For Hundreds Of Movies & TV Shows, Burns In California Wildfire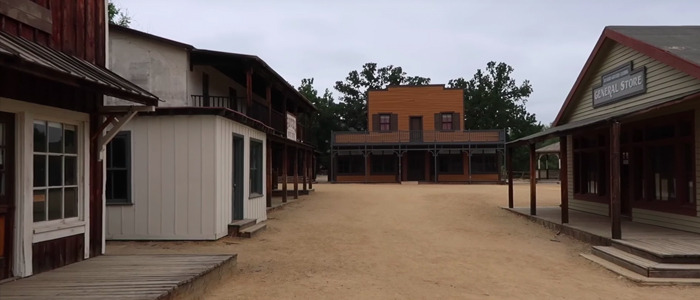 Paramount Ranch, which served as a filming location for nearly 500 films and television shows over the years, is the latest casualty of the wildfires that are currently sweeping across California. The historic "western town" area in the mountains outside of Los Angeles, where projects like Westworld, Gunsmoke, Gunfight at the O.K. Corral, and many others were shot, has burned to the ground.
California is currently experiencing a rash of wildfires, with people being forced to evacuate their homes in the northern part of the state and a separate fire impacting those closer to Hollywood, as well. Doctor Strange filmmaker Scott Derrickson has already lost his home in the blaze, Guillermo del Toro's Bleak House is also at risk, and those are just a couple of the people affected by these frightening fires. Malibu has been evacuated, and the Paramount Ranch, which is located in the nearby Santa Monica Mountains and is a national park that's open to the public, was also caught in the fire's path. THR pointed us to these tweets:
We are sorry to share the news that the #WoolseyFire has burned Western Town at #ParamountRanch in Agoura. We do not have any details or photos, but it is our understanding that the structures have burned. This area is an active part of the incident and we cannot access it. pic.twitter.com/oC4n7KR8ZT

— Santa Monica Mtns (@SantaMonicaMtns) November 9, 2018
Sad for fans of @WestworldHBO and shows like Dr Quinn Medicine Woman, the Paramount Ranch western town movie set has burned to the ground in the Woolsey Fire @CBSLA #westworld #Woolseyfire pic.twitter.com/DhZWaGbr6g

— John Schreiber (@johnschreiber) November 9, 2018
"Paramount Ranch was one of the locations used during seasons one and two of Westworld, in addition to the primary location at Melody Ranch in Santa Clarita," HBO said in a statement. "Westworld is not currently in production, and as the area has been evacuated, we do not yet know the extent of the damage to any structures remaining there."
In the early days of movies, film studios purchased big plots of land that could be used to stand in for the landscapes of different states or countries. (These spots were under 35 miles from Hollywood, because the unions required studios to pay employees extra if they had to travel farther than that for work.) Paramount Ranch in particular was the home of tons of high-profile projects, from old westerns like The Virginian to shows like Dr. Quinn, Medicine Woman and HBO's Carnivale. You can see it on full display in this behind the scenes video from Westworld season 2:
Drunk History creator Derek Waters also had to shut down production of the comedy series because he and his crew were on location and affected by the fires:
A separate fire spread across Griffith Park, and the smoke was visible from the Disney lot in Burbank:
View from my office. Hope everyone is being very careful this morning. #abc7eyewitness pic.twitter.com/FxUv0IJnMx

— Robert Iger (@RobertIger) November 9, 2018
You can find out more information about the Paramount Ranch here. Stay safe out there, everyone.