Harrison Ford Doesn't Want Chris Pratt To Replace Him As Indiana Jones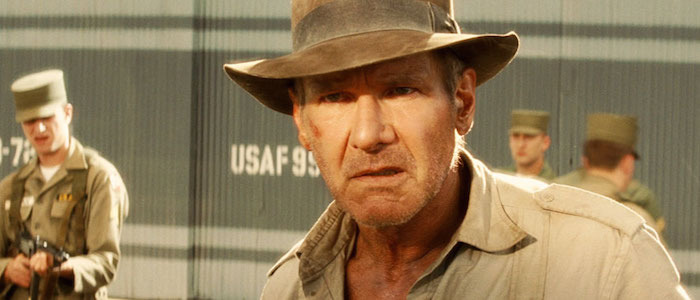 A rumor about Guardians of the Galaxy actor Chris Pratt taking over the mantle of Indiana Jones from star Harrison Ford first popped up in 2015. Since then, Pratt has both denied the rumor and later acknowledged it, basically leaving the door open to the possibility should anyone at Disney or Lucasfilm come calling with an actual offer for him to play the whip-cracking archeologist.
But there's one person who seemingly doesn't want Pratt involved: current Indiana Jones star Harrison Ford. Below, watch Ford react to a question about Pratt potentially joining the upcoming Indiana Jones 5.
Ford is definitely coming back to reprise his role as Dr. Henry "Indiana" Jones Jr. in the still-untitled Indiana Jones 5, and franchise helmer Steven Spielberg is also returning to direct. There's been speculation that perhaps the new movie could feature bookends with Harrison Ford and maybe use flashbacks to introduce a younger version of the title character who would handle most of the action, but it seems like that's not the approach here – not with Pratt, anyway.
In an interview with Variety, Ford was asked if Chris Pratt would be joining the franchise, and Ford smirked and responded, "I think it's him or me."
Harrison Ford on whether Chris Pratt is joining #IndianaJones: "I think it's him or me" https://t.co/95n7PCxeaM pic.twitter.com/cLgrPWITs7

— Variety (@Variety) November 9, 2018
Ford may have been kidding around or he could have been serious – it's really hard to tell with him. I imagine the actor feels protective over a cinematic legend he helped to create – and rightly so. For several generations, Indiana Jones is an indelible icon...even if the most recent movie, The Kingdom of the Crystal Skull, isn't anybody's favorite in the franchise.
If Ford wasn't joking, that's a pretty clear line in the sand for him to draw. Is he trying to send a message to writer Jon Kasdan and the writers' room? Probably not – that's wildly impractical when he could just have a private conversation with them. Maybe Ford is trying to deflect in order to preserve the surprise if Pratt is eventually cast in the role. Maybe he's saying he doesn't mind the idea of someone taking his place, as long as it isn't Pratt. We don't know! But still, if you're Chris Pratt, hearing Ford say "it's him or me" has to take the wind out of your sails a little bit.
Indiana Jones 5 will supposedly be Ford's final time suiting up as the adventurous archaeologist. Writer David Koepp was originally on board to write the screenplay, but his version was scrapped and Solo: A Star Wars Story scribe Jon Kasdan was brought on instead. The movie was originally going to hit theaters in 2019, but Disney currently has it set for a release date of July 9, 2021.