Netflix Trailers: New International Shows '1983', 'Dogs Of Berlin', And Docu-Series 'Our Planet'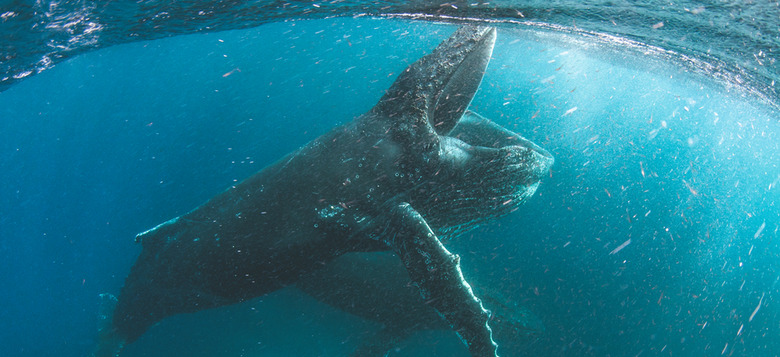 Netflix can't stop, won't stop! There was a time when the streaming service was primarily known for providing subscribers with other people's content. Those days are gone! Week after week, the streaming giant unleashes new original programming, and you, the hungry viewing public, lap it up like a lioness of the Serengeti lapping up the blood of a fresh kill. Below, check out some new Netflix trailers for international shows 1983 and Dogs of Berlin, and the Planet Earth–like docu-series Our Planet.
1983 Trailer
1983 looks plenty moody and chilly. There's style to spare in this trailer – lots of frosty landscapes, blue-tinted shots, and a grumbly narrator. And then there's an explosion. The series has to do with secrets surrounding a terrorist attack that happened in (you guessed it) 1983. Twenty years later, a group of unlikely rebels band together to uncover those secrets. 1983 streams on Netflix November 30, 2018.
The deeply frozen Cold War is heating up. Twenty years after a devastating terrorist attack in 1983 that halted the course of Poland's liberation and the subsequent downfall of the Soviet Union, an idealistic law student and a disgraced police investigator stumble upon a conspiracy that has kept the Iron Curtain standing and Poland living under a repressive police state.
Now, in 2003, after two decades of peace and prosperity, the leaders of the regime enact a secret plan made with an unlikely adversary in the 1980s that will radically transform Poland and affect the lives of every citizen in the nation — and the world.
What these two men discover has the potential to ignite a revolution and those in power will stop at nothing to keep it a secret.
Dogs of Berlin Trailer
In Dogs of Berlin, "the death of a high-profile football star leads two contrasting police officers into a battle with Berlin's underworld as tensions mount throughout the city." Like the 1983 trailer above, this looks gritty and moody – perhaps Netflix has a type they're drawn to. This series looks a bit more exciting than 1983, or perhaps that's just because of how flashy this trailer is, complete with words slamming on the screen in sync with the music. Dogs of Berlin is streaming December 7, 2018.
Dogs of Berlin tells the story of two contrasting Berlin police detectives who become a team against their will – and are forced into a territorial battle with the Berlin underworld that confronts them with their own human weaknesses and criminal activities – and into a final decision on which side of the law they're actually on.
Our Planet Trailer
And now for something completely different! Our Planet is from the creators of the fascinating docu-series Planet Earth, and even has the same narrator: Sir David Attenborough. This visual stunning series takes viewers through some of the world's most precious natural habitats. It's a nice reminder that while everything seems like a constant garbage fire, there is actual beauty out there...somewhere. Our Planet streams April 5, 2019.
Filmed over four years, Our Planet is an eight-part series that combines the spectacular photography of Planet Earth with an unprecedented look at the planet's remaining wilderness areas and their animal inhabitants. Set to Debut in 2019.