'Godzilla Vs. Kong' Cast Adds 'Game Of Thrones' And 'Iron Fist' Actress Jessica Henwick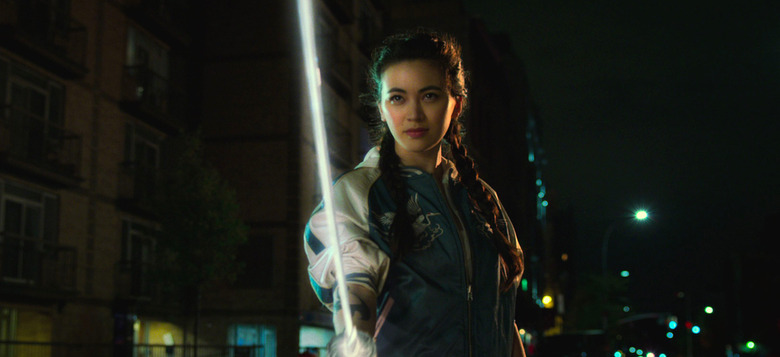 Jessica Henwick, who appeared on Game of Thrones and was one of the few bright spots on Iron Fist, has joined the ever-expanding Godzilla vs. Kong cast. Henwick is the latest addition to a cast that already includes Stranger Things' Millie Bobby Brown, Big Little Lies' Alexander Skarsgard, Deadpool 2 actor Julian Dennison, Iron Man 3's Rebecca Hall, and Widows actor Brian Tyree Henry. Adam Wingard, director of The Guest, helms the upcoming entry in Legendary's MonsterVerse, which pits Godzilla and King Kong against each other in a gargantuan smack-down.Godzilla vs. Kong is still 2 years away, but the sequel continues to amass an impressive cast. Variety has the news about Jessica Henwick joining the team, but like most new additions to this cast, we don't know who she's playing. In fact, we don't know much at all about this movie. Here's what we know for sure: it's the next chapter in Legendary's MonsterVerse, a cinematic universe that somehow managed to outlive Universal's Dark Universe. The movie will arrive after Godzilla: King of the Monsters, which looks incredible.
Millie Bobby Brown, who appears in King of the Monsters, will also appear in Godzilla vs. Kong, so it's safe to assume she survives all the monster mayhem in that film. Rebecca Hall, Julian Dennison, Alexander Skarsgard, Demián Bichir and Brian Tyree Henry are all confirmed to star in Godzilla vs. Kong as well, while Black Panther's Danai Gurira is rumored to have a role, too.
I gave up on Game of Thrones, so I don't remember Henwick's character on that show. I did watch Iron Fist season 1, though, and while the show itself was a drag, her performance as Colleen Wing was a high-point. I'm happy to see her move on to bigger, and hopefully better, things.
"I really want you to take those characters seriously," director Adam Wingard said, regarding his approach to the material. "I want you to be emotionally invested, not just in the human characters, but actually in the monsters. It's a massive monster brawl movie. There's lots of monsters going crazy on each other, but at the end of the day I want there to be an emotional drive to it. I want you to be emotionally invested in them. I think that's what's going to make it really cool."
The MonsterVerse has been hit-or-miss so far. The 2014 Godzilla had some stunning moments, but didn't quite work for me. Kong: Skull Island was fun, if overlong. Godzilla: King of the Monsters looks better than both of them put together. Here's hoping Godzilla vs. Kong works out. I'm a fan of a lot of Adam Wingard's work, but he's had a bit of a dry run lately, helming the lackluster Blair Witch and Death Note. Get yourself back on track, Wingard!
Godzilla vs. Kong opens on May 22, 2020.