New Live-Action 'Star Wars' Show Announced, Diego Luna To Reprise His Role As Cassian Andor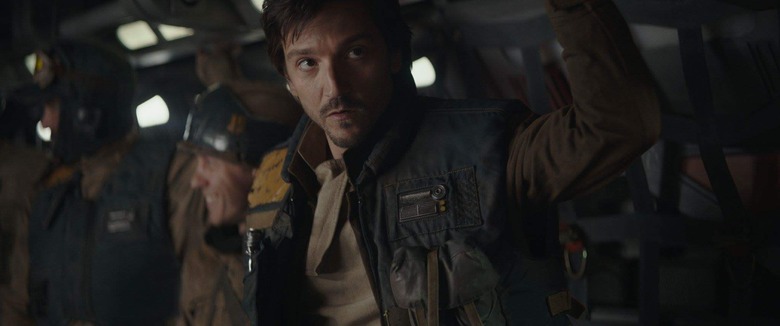 Move over, The Mandalorian – you're no longer the only live-action Star Wars show in Hollywood.
Rogue One: A Star Wars Story actor Diego Luna will reprise his role as Cassian Andor in a new live-action series for Disney+, the new Disney streaming service. The show begins filming next year. Read on for more details about what Lucasfilm is calling their new "spy thriller."
StarWars.com relayed the big news this afternoon, revealing that Disney CEO Bob Iger announced a second Star Wars series specifically for Disney+. The streaming service was previously said to be called Disney Play, but that was a terrible title and Disney+ allows the company to follow in the footsteps of ESPN+, the sports subscription streaming service which Disney already owns.
Jon Favreau is currently hard at work on The Mandalorian, but we still don't know who will be running things with this new untitled Cassian Andor series. Here's the official description of the show, which is set before the events of Rogue One and will follow Cassian "during the formative years of the Rebellion":
The rousing spy thriller will explore tales filled with espionage and daring missions to restore hope to a galaxy in the grip of a ruthless Empire.
"Going back to the Star Wars universe is very special for me," Luna said in a statement. "I have so many memories of the great work we did together and the relationships I made throughout the journey. We have a fantastic adventure ahead of us, and this new exciting format will give us the chance to explore this character more deeply."
This won't be the first time the actor has reprised this particular role. He also returned to play Cassian Andor in the Star Wars: Secret of the Empire VR experience, which /Film's Jacob Hall talked about here.
Personally, I didn't really think Cassian Andor was a super memorable character from Rogue One, aside from his opening scene in which he straight-up murders an innocent man to preserve a key secret. But that level of ruthlessness and moral complexity (he's supposed to be a good guy, remember!) bodes well for the storytelling possibilities of a long-form TV show.
As we saw in Solo: A Star Wars Story, Disney seems hellbent on showing us the origins of familiar characters, so I'd also bet good money that Alan Tudyk will return at some point as K-2SO and we'll see how those two characters first met.
But most importantly of all, we're really hoping this means Luna will finally get to experience a highly-anticipated scene between Cassian and Jabba the Hutt. It's clearly something he's been thinking about a lot: