'Brooklyn Nine-Nine' Season 6 Premiere Date Set For January 2019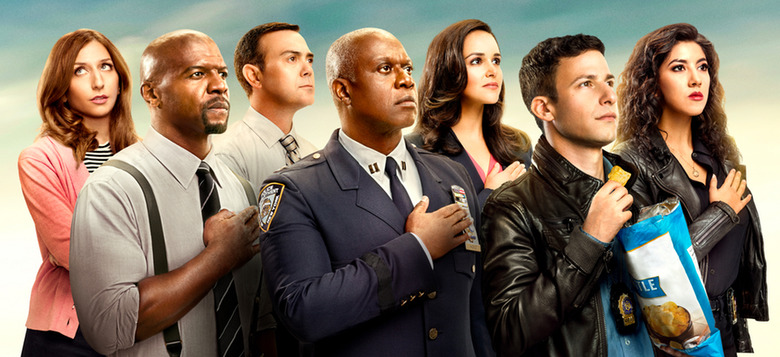 Brooklyn Nine-Nine was cancelled for a total of 31 hours before NBC stepped in and rescued it, and thank heavens for that. The series will jump from FOX to NBC next year for its sixth season, and we now have an official premiere date, as well as confirmation of when the show will air weekly.
Thursday, January 10, 2019 at 9 PM. That's the official premiere date of the rescued Brooklyn Nine-Nine. The series will then air Thursdays at 9 PM going forward. The world may be a never-extinguished garbage fire, but at least we have more Nine-Nine to look forward to. The series, created by Dan Goor and Michael Schur, follows a group of detectives working out of the 99th Precinct of the New York City Police Department in Brooklyn. For five seasons, Brooklyn Nine-Nine cultivated an image of a hilarious and genuinely good-natured sitcom. The type of show about good people working together, endearing themselves to the audience in the process.
Is it an idealized show? Absolutely! In fact, the show more or less exists in a fictionalized, stylized universe, and is detached from reality for the most part. But that's fine! I've seen some people complain that the show glamorizes police in a time when that's the last thing we need, but I don't think that's what the series is about. It's about showing us a world that could be – a world that we'd all be a lot better off in. The characters that inhabit the 99th Precinct are fictional, but we wish they weren't.
Despite a devoted following, Brooklyn Nine-Nine didn't draw enough ratings for FOX's taste, and the network gave the series the axe after season 5. There was an immediate outcry, and in less than two days, the series was saved by NBC, home of other Goor and Schur shows like The Office, Parks and Recreation and The Good Place.
Stars Andy Samberg, Stephanie Beatriz, Terry Crews, Melissa Fumero, Joe Lo Truglio, Chelsea Peretti and Andre Braugher will all be returning, although Peretti will sadly be departing the show as a regular this season. All I can hope for now is that the ratings on NBC are good enough for the show to hang in there for at least a few more seasons. As silly as it sounds, life seems genuinely better when I'm able to watch Brooklyn Nine-Nine. I can tune the misery of reality off for a period of time, and spend time with these characters I've grown to love. Welcome back, Brooklyn Nine-Nine. Please don't ever leave us again.
Brooklyn Nine-Nine Season 6