'Mortal Engines' Extended Trailer Gives Us Our Best Look At The Film Yet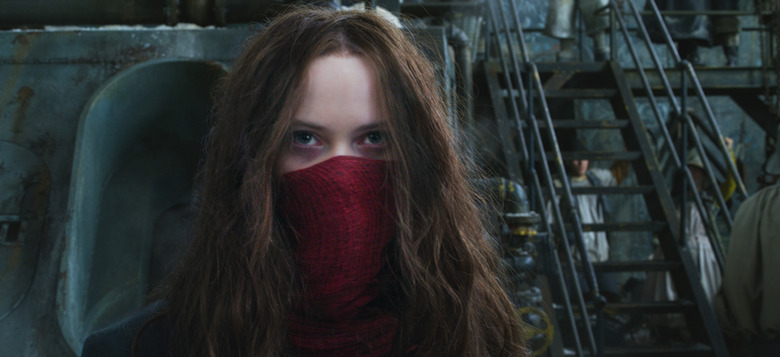 Can Peter Jackson recapture the epic magic of his Lord of the Rings adaptations with Mortal Engines? That's the plan, at least. But ahead of the film's fast-approaching release date, enthusiasm for the film is a tad underwhelming. Perhaps this new trailer, billed as an extended look, will change that. Watch the latest Mortal Engines extended trailer below.
Mortal Engines Extended Trailer
This might be our best look at Mortal Engines yet. Previously trailers have played up the action, while this extended look provides us with a lot of backstory, and even shows the world as it is before an apocalyptic event changes everything. In the world of the film, cities have been built on the seas and in the skies, but they've also been built on wheels. As a result, giant cities roll over the landscape. I love this idea – it's unique, and makes for some exciting visuals.
Mortal Engines is supposed to launch a franchise, but it's very difficult to tell if that will ever happen. I keep forgetting the movie is even coming out this year, and I'm sure I'm not alone. "This is one movie that I hope is successful enough that we get to do the other stories because the other books are really...I mean, it just gets...you know, this story mushrooms in such unexpected ways in the future books. So, I really hope we get to make those films," Jackson told us during a set visit.
Despite Mortal Engines putting Jackson's name front and center, this isn't actually a film he directed – he co-wrote the script (with Fran Walsh andPhilippa Boyens) and produced. Christian Rivers is in the director's chair here, making his feature debut. I hope things work out well for the Mortal Engines team, because this idea is clever enough to warrant some attention.
Mortal Engines, starring Hugo Weaving, Hera Hilmar, Robert Sheehan, Jihae, Ronan Raftery, Leila George, Patrick Malahide, and Stephen Lang, opens December 14, 2018.
Hundreds of years after civilization was destroyed by a cataclysmic event, a mysterious young woman, Hester Shaw (Hera Hilmar), emerges as the only one who can stop London — now a giant, predator city on wheels — from devouring everything in its path. Feral, and fiercely driven by the memory of her mother, Hester joins forces with Tom Natsworthy (Robert Sheehan), an outcast from London, along with Anna Fang (Jihae), a dangerous outlaw with a bounty on her head.