'Fantastic Beasts: The Crimes Of Grindelwald' Featurette Counts The Connections To 'Harry Potter'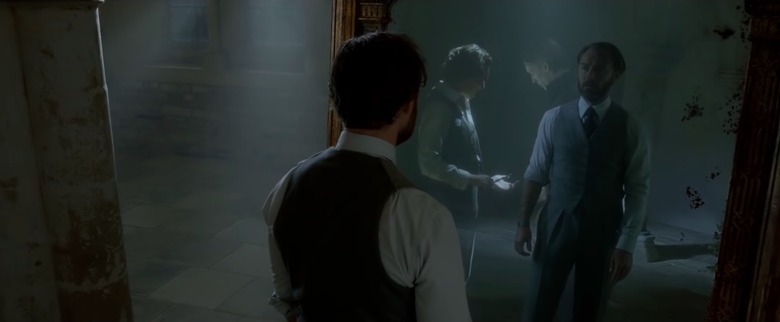 The Wizarding World is getting infinitely bigger with each new Fantastic Beasts movie, but the newest Fantastic Beasts 2 featurette is here to remind you that it all ties back to a little movie series called Harry Potter. Warner Bros. has released a magical featurette for Fantastic Beasts: The Crimes of Grindelwald cataloguing all the connections between the prequel spin-off and the magical adventure series that started it all. And yes, there's more to it than just hot, young Dumbledore.
Fantastic Beasts 2 Featurette
Stars Eddie Redmayne and Jude Law introduce the new Fantastic Beasts: The Crimes of Grindelwald featurette, which counts all the Harry Potter connections in the Fantastic Beasts series, which takes place 70 years before the famous boy wizard ever stepped into the hallowed halls of Hogwarts.
"This wizarding world that J.K. Rowling's created is so rich and vast from Harry Potter to Fantastic Beasts. There are so many connections between characters and storylines, past and present, and so many secrets yet to be revealed," Law teased at the beginning of the video. The featurette then dives into several of the many familiar objects and people from both franchises: Albus Dumbledore being the No. 1 contender. Michael Gambon and Richard Harris, who both played the wise Hogwarts headmaster, narrate the video, which shows us flashes of the Mirror of Erised, the Deathly Hallows, and Gellert Grindelwald (Johnny Depp) as they appear in both series.
The featurette was released on the heels of a new international trailer, which gives us a new glimpse of the horrors enacted by the Dark wizard Gellert Grindelwald, including the shocking torture of Newt's American friend Queenie Goldstein (Alison Sudol).
Fantastic Beasts International Trailer
Fantastic Beasts: The Crimes of Grindelwald is directed by David Yates from a script by J.K. Rowling. It also stars Katherine Waterston, Dan Fogler, Ezra Miller, Zoë Kravitz, Callum Turner, Claudia Kim, William Nadylam, and Kevin Guthrie.
Here is the official synopsis for Fantastic Beasts: The Crimes of Grindelwald:
In an effort to thwart Grindelwald's plans of raising pure-blood wizards to rule over all non-magical beings, Albus Dumbledore enlists his former student Newt Scamander, who agrees to help, unaware of the dangers that lie ahead. Lines are drawn as love and loyalty are tested, even among the truest friends and family, in an increasingly divided world.
Fantastic Beasts: The Crimes of Grindelwald opens in theaters on November 16, 2018.