'Spider-Man: Into The Spider-Verse' Sneak Peek: Spider-Man Doesn't Wear A Cape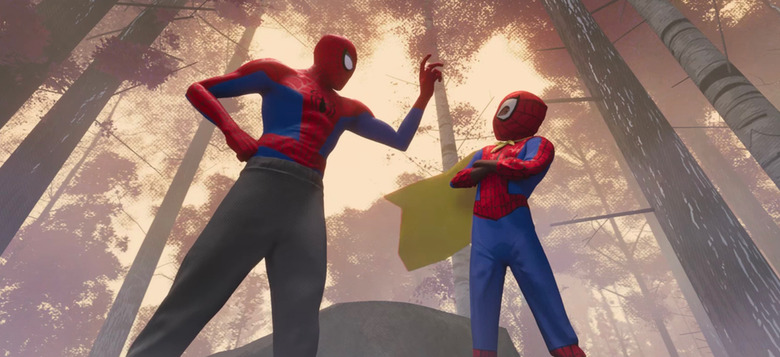 Is Into the Spider-Verse destined to be the best Spider-Man movie ever? It just might be, because every piece of footage looks exciting, vibrant, and different than anything we've seen before. The animated film brings together spider-people from multiple universes, and sets them loose in a comic-book-infused world overflowing with eye-popping visual style. A new Into the Spider-Verse sneak peek offers up another entertaining look at the superhero film, and confirms that Spider-Man does not wear a cape. Or maybe he does...?
Into the Spider-Verse Sneak Peek
I can't get over how fun this movie looks. Call me a snob, but when Into the Spider-Verse was first announced, I rolled my eyes. "Another new Spider-Man movie?" I thought. "How many times is the same old story going to be told?" But I'm happy to eat crow over here, because it's clear Into the Spider-Verse definitely isn't the same old story. No movie that features Spider-Ham can be considered "the same old story."
In Spider-Man: Into the Spider-Verse, teenager  Miles Morales (Shameik Moore) thinks he's the only person with spider-abilities...until he meets Peter Parker (Jake Johnson), a Spider-Man from another universe. Soon, the duo find other spider-people as well. This sneak peek offers more footage from the animated film, and introduces us to the many spider-people, including Hailee Steinfeld as Gwen Stacy/Spider-Gwen, Kimiko Glenn as Peni Parker, John Mulaney as Spider-Ham, and of course, Nicolas Cage as Spider-Man Noir.
Other cast members include Mahershala Ali as Aaron Davis/Prowler, Miles' uncle; Brian Tyree Henry as Jefferson Davis, Miles' father; Lily Tomlin as Peter's Aunt May; and Liev Schreiber as Wilson Fisk, AKA the Kingpin. Bob Persichetti, Peter Ramsey and Rodney Rothman direct.
Phil Lord and Chris Miller, the duo behind The LEGO Movie, 21 Jump Street, and at one point, Solo: A Star Wars Story, serve as producers on the film, with Lord handling writing duties. "This is a new, unique experience, and we are pushing the medium [with 'Into the Spider-Verse']," said Miller, with Lord adding: "We're getting away with so much with this movie...It's a pretty wild style."Spider-Man: Into the Spider-Verse swings into theaters December 14, 2018.
Phil Lord and Christopher Miller, the creative minds behind The Lego Movie and 21 Jump Street, bring their unique talents to a fresh vision of a different Spider-Man Universe, with a groundbreaking visual style that's the first of its kind. Spider-Man™: Into the Spider-Verse introduces Brooklyn teen Miles Morales, and the limitless possibilities of the Spider-Verse, where more than one can wear the mask.