Sci-Fi Indie 'Prospect' Gets 'Star Wars'-Style Throwback Trading Cards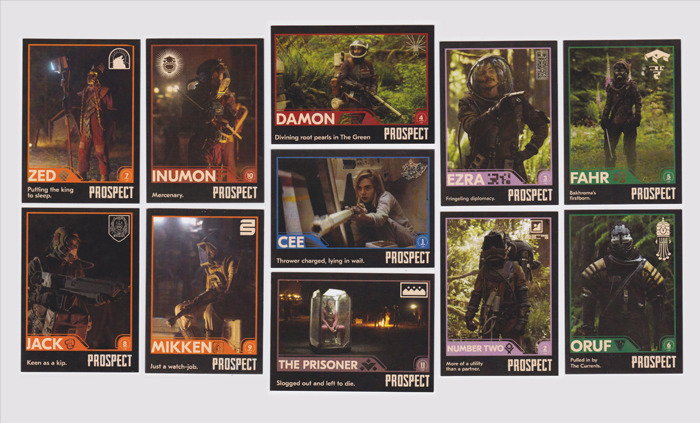 In 1977 and 1978, Topps published the first official Star Wars trading card series. Now a new sci-fi movie called Prospect is looking to capture the vibe of those old Star Wars cards with their own set made to look like they were released during that same era. Watch the trailer for Prospect (which stars Jay Duplass, Sophie Thatcher, and Pedro Pascal) and a closer look at these cards below.
Before we examine the cards, here's the film's trailer:
/Film's Jacob Hall saw Prospect at this year's SXSW Film Festival, and he had high praise for it in his review:
Directors Chris Caldwell and Zeek Earl have created something of a technical miracle with Prospect. This film looks great – it's easily the slickest bargain-produced science fiction film since Duncan Jones' Moon. And like Moon, that slickness serves a harrowing and intimate tale. The characters pull you through it all, even as you get lost in the details.
To help promote the film, Ground Control Productions has sent over these cool Prospect-themed "trading cards" which evoke that classic Topps Star Wars set. You can see the covers in the image at the top of the page, and get a closer look at all of them by clicking on the individual images below:
If you dig these, there's an entirely separate and very detailed collection of other images over at Imgur, which are full of references to the movie's sci-fi world. Hit that link to see them all, but you can check out a select few below:
A teenage girl and her father travel to a remote alien moon, aiming to strike it rich. They've secured a contract to harvest a large deposit of the elusive gems hidden in the depths of the moon's toxic forest. But there are others roving the wilderness and the job quickly devolves into a fight to survive. Forced to contend not only with the forest's other ruthless inhabitants, but with her own father's greed-addled judgment, the girl finds she must carve her own path to escape.
Prospect is currently in theaters in New York and Los Angeles, and it expands wide on November 8, 2018.