'Kingsman 3' Will Be 100% Eggsy Free, According Taron Egerton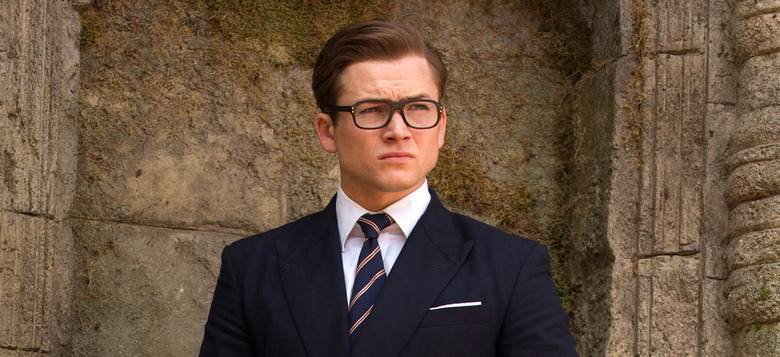 When Kingsman 3 arrives next year, it will not feature Taron Egerton wearing dope suits. Egerton, who will next be seen in Robin Hood, has revealed that while he might return for future Kingsman adventures, he will not be in the third entry in the spy series. Could the prequel film The Great Game be arriving in place of a traditional sequel?
Back in September, word broke that Kingsman 3 would arrive on November 8, 2019, with Matthew Vaughn returning to write and direct. At the time, it seemed safe to assume that Kingsman series star Taron Egerton would return too, once again playing young spy Eggsy. But that's not the case. Speaking with Yahoo, Egerton said:
"I don't know how hot off the press this is, and I think I'm allowed to say it, but I'm not in the next Kingsman movie. That doesn't mean I won't be in Kingsman ever again. I was with Matthew [Vaughn] as little as a few days ago, we're still very much in business together, but his next journey in that world doesn't involve me... His idea for the new one is incredibly exciting. I'm sad that I won't be on that journey with him, but it's not the last you've seen of Eggsy."
This is a sharp contrast to what Matthew Vaughn has said in the past – the filmmaker claimed the third entry would serve as "the conclusion of the Harry Hart-Eggsy relationship." Obviously, that's not happening if Eggsy isn't in the movie. So what's going on here? In the past, Vaughn confirmed that a Kingsman spin-off titled The Great Game was in the works. The film would be a prequel set in the 1900s, with Ralph Fiennes rumored for a part. It was believed that The Great Game would come after Kingsman 3, but perhaps Vaughn is making the third film in the series The Great Game, and saving the conclusion to the Harry/Eggsy relationship for a future film.
I thought the first Kingsman had its moments, but the second film, The Golden Circle, was borderline terrible, and about five hours too long. All that said, a prequel film set in the past featuring Ralph Fiennes sounds a lot more interesting than just another regular sequel. Of course, the Great Game theory is just speculation – maybe Kingsman 3 is still set in the present, and The Great Game is a future film. All we know for certain is that when the next Kingsman movie arrives in 2019, Taron Egerton will be absent.