'The Princess Switch' Trailer: Vanessa Hudgens Is Seeing Double In Netflix's Sugary-Sweet Christmas Movie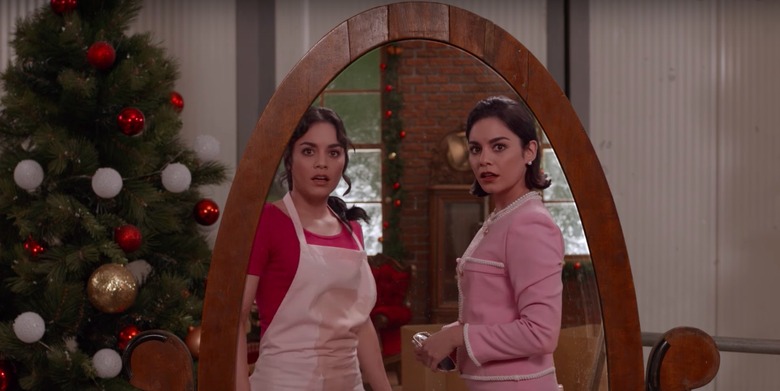 Vanessa Hudgens and...Vanessa Hudgens star in The Princess Switch, a cheesy Christmas movie that promises to dethrone The Christmas Prince as your new Netflix holiday obsession.
Because look at all the ingredients in this sugary-sweet movie! Two Vanessa Hudgens: check. Two blandly handsome love interests, one of whom happens to be a pseudo-British prince: check. Parent Trap-style shenanigans that are sure to end up with at least one of the bland-hot love interests catching Vanessa Hudgens in their arms: check. It's a tooth-aching concoction of a movie that I want to shove down my face immediately. Merry Christmas, indeed.
The Princess Switch Trailer
You know how during the Christmas holidays, all you want to do is pile as many cookies into your mouth as possible and swallow them wholesale, anime-style? That's how I feel about these so bad, so terrible Christmas movies starring shinier versions of our favorite TV actors. Vanessa Hudgens may be a bigtime movie, TV and stage actress now, but that doesn't mean she can't breeze through an easy Netflix holiday movie (and pay homage to her Disney Channel roots) along the way. Hell yeah, get that paycheck and those hair products, Vanessa.
The Princess Switch follows girl-next-door Vanessa Hudgens, rocking effortlessly wavy hair, as a Chicago baker named Stacy who earns a spot at a royal baking competition in the fictional country of Belgravia. But who does she run into there but her doppelganger, the uptight Duchess of Montenaro, Margaret. Astonished at their likeness, they decide to switch places and live each other's lives. But things get complicated when they — of course! — fall in love with the hot coworker and hot prince.
It's dumb. It's cheesy. I want to watch it 10 times.
Here is the synopsis for The Princess Switch:
What happens when Chicago baker Stacy meets a soon-to-be princess who looks exactly like her? Well, they trade places, of course. This holiday season join in the mischief as Vanessa Hudgens stars in The Princess Switch.
The Princess Switch debuts on Netflix on November 16, 2018.