'Creed II' Featurette Introduces Viktor Drago, Son Of Ivan Drago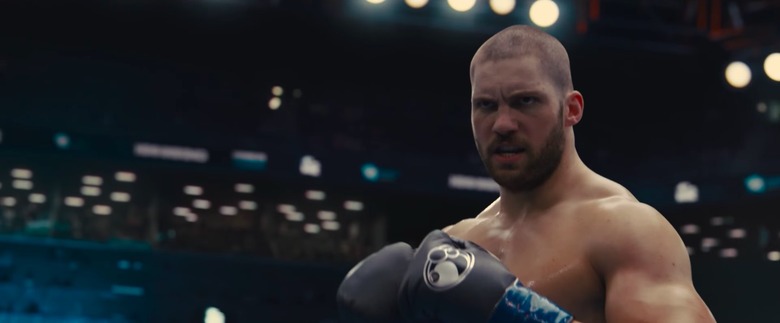 At 6'4" and 245 pounds, Florian Munteanu's Viktor Drago somehow makes the none-too-shabby Michael B. Jordan looks small. At least, that's what the new Creed II featurette makes him out to be, introducing the Romanian boxer and actor, and all of his intimidating attributes, in all his glory. MGM released the clip ahead of the upcoming release of Creed II later this month, which sees Adonis Creed readying himself for a fight for not just his legacy, but for his life.
Creed 2 Featurette
Like much of the hype-heavy marketing for Creed II, this new featurette plays out a lot like a music video, introducing the 28-year-old Munteanu as Viktor Drago to the pulsing beats of DMX's "Who We Be." We get a peek at the Romanian boxer, actor, and fitness star's insane workout regime, interspersed with footage from the movie, shots of Munteanu's bulging biceps, and lots of manly screaming. It's fitspo porn at its peak, and will either make you want to hit the gym or crawl onto that permanently sunken part of your couch to eat chips and cry.
The featurette gives no indication of Munteanu's acting ability, but from the way that this featurette and the trailers market him, I get the feeling that won't be too important. Besides, we know that while Munteanu is lifting tons of weights, it's Michael B. Jordan who will do the heavy lifting in the acting department (fingers crossed that he won't be overlooked come Oscars season again).
Jordan is joined by Sylvester Stallone, Tessa Thompson, Wood Harris, Russell Hornsby, Florian "Big Nasty" Munteanu, Andre Ward, Phylicia Rashad, and Dolph Lundgren in Creed II, which sees Steven Caple Jr. taking over the director's chair from Ryan Coogler.
Here is the official synopsis for Creed II:
Life has become a balancing act for Adonis Creed. Between personal obligations and training for his next big fight, he is up against the challenge of his life. Facing an opponent with ties to his family's past only intensifies his impending battle in the ring. Rocky Balboa is there by his side through it all and, together, Rocky and Adonis will confront their shared legacy, question what's worth fighting for, and discover that nothing's more important than family. Creed II is about going back to basics to rediscover what made you a champion in the first place, and remembering that, no matter where you go, you can't escape your history.
Creed II hits theaters on November 21, 2018.