Viggo Mortensen Offers Advice For Young Aragorn In Amazon's 'Lord Of The Rings' Series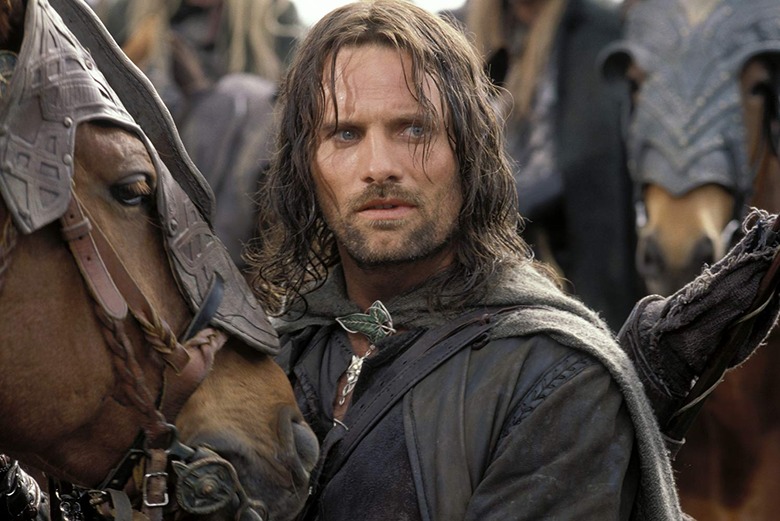 The first time we meet Viggo Mortensen's Aragorn in Lord of the Rings: The Fellowship of the Rings, coolly smoking a pipe with his rugged face hidden by black hood, he's having one of the best cinematic introductions ever. And through the rest of his run in Peter Jackson's Lord of the Rings trilogy, he only gets better, as Mortensen infuses the kingly character with such swagger and world-weary gravitas that it's hard to imagine anyone else stepping into his muddy boots.
But as daunting as it is, some young whippersnapper has to do the job in Amazon's upcoming Lord of the Rings TV series, which plans to introduce a younger Aragorn in the adaptation of J.R.R. Tolkien's lauded novels. Thankfully, for whoever that young actor is, Mortensen has some words of advice.
In an interview with Collider ahead of the release of his awards contender Green Book, Mortensen took the time to give some kind advice to the still-uncast actor set to play the role he originated in Jackson's Lord of the Rings trilogy:
"I would say, not only read the book, you know, very thoroughly, that giant book of Lord of the Rings, but you could read some of the Nordic sagas. You'll get some clues there as to where Tolkien got his information. Like, Sigurd the Dragon Slayer, and the Volsunga saga. Read that."
Mortensen adds one more piece of homework for this future Aragorn: watch some Akira Kurosawa films.
It's all sound advice for an actor who will likely shoulder much of Amazon's buzzy, big-budget Lord of the Rings series, for which the company has already given a five-season order and dedicated obscene amounts of money. Lord of the Rings is looking to be one of Amazon's priciest original titles yet, and it hasn't even cast the lead that has to live up to Mortensen's phenomenal performance.
Of course, Mortensen didn't have it easy from the beginning either. It's a famous story by now that Mortensen wasn't the first actor cast for the role of Aragorn, taking on the role from Stuart Townsend last-minute after the latter had already completed months of training in pre-production. Mortensen revealed that his process with the last-minute role change was similar to his advice to the future Aragorn:
"Lord of the Rings was a case where I replaced an actor and they were already filming – not only filming, but they'd been rehearsing for months and learning all these skills they had to have for those movies – language skills, invented the Elvish, and swordplay, and horse riding, all this stuff. And I was kind of freaked out because I said yeah and I'm on the plane, on this 13 hour plane flight, and I'm looking at the book, which I had never read. But as I started looking at it, I was like, 'Well, there's something.' There's always something that you can draw on. I had read or been read to as a kid, stories about Vikings and Nordic sagas and stuff, and there was something there that was familiar, but it was still – you know, fortunately when I started doing that shoot it was physical stuff, not dialogue. So it was like sword fighting, so I could get my feet wet with that before I actually had to start speaking."
Screenwriting duo JD Payne and Patrick McKay are attached to write the Lord of the Rings series, while Peter Jackson is still not confirmed to be involved. It's uncertain when we can expect the series to debut on Amazon Prime.