'Death And Nightingales' Trailer: Jamie Dornan Stars In BBC's Smoldering Historical Drama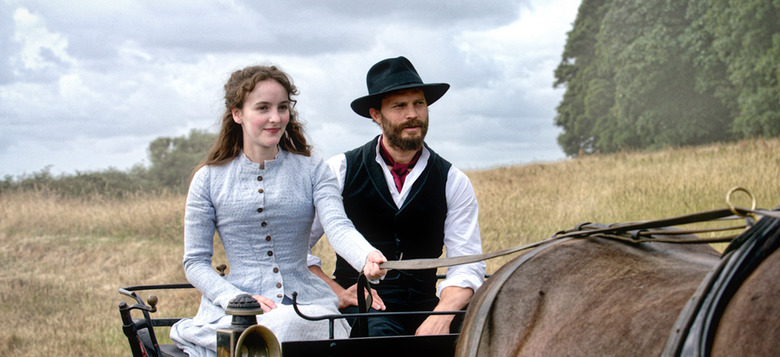 In the mood for smoldering looks, untamed passions, shots of billowing wheat fields, and well-dressed people yelling at each other? Then Death and Nightingales is for you! The BBC period drama features The Americans' Matthew Rhys and 50 Shades franchise star Jamie Dornan both vying for the attentions of Ann Skelly. What happens next is described as "a story of love, betrayal, deception and revenge set over 24 hours." Watch the Death and Nightingales trailer below.
Death and Nightingales Trailer
This Death and Nightingales trailer looks tailor-made to draw in the historical drama crowd. The costumes! The simmering rage! The accents! The sexy stranger! Vests! It's all here, and more. Based on Eugene McCabe's novel, Death and Nightingales follows a series of characters over a period of 24-hours in the countryside of Fermanagh in 1885.
In the three-part drama, "it's Beth Winters' (Ann Skelly) 23rd birthday – the day she has decided to join the charming Liam Ward (Jamie Dornan) and escape from her limited life and difficult and complex relationship with her Protestant landowner stepfather Billy (Matthew Rhys). As decades of pain and betrayal finally build to a devastating climax, Death And Nightingales is a powerful and gripping drama that follows a woman struggling to control her own destiny and will illuminate tensions that tear both families and nations apart."
The miniseries was penned by Allan Cubitt, creator of The Fall – which also featured Dornan. The novel's synopsis is a bit more detailed, which might offer more insight into what viewers are in store for:
It is 1883 and the farms of County Fermanagh, on the border of Ulster and what we now know as the Republic of Ireland, are crisscrossed with religious, political, and generational tensions. Through the events of a single day in the life of Elizabeth Winters, we see decades of pain, betrayal, and resentment build to a devastating climax.
Against the fearsome beauty of the Fermanagh landscape, the fate of McCabe's heroine, Beth, slowly and suspensefully unfolds. Born to a Catholic mother and an unknown Catholic father, conceived shortly before her mother's marriage to Protestant Billy Winters, Beth has lived a life of silent suffering since her mother's death. Determined to decide her own fate but doomed to repeat the tragic circumstances of her birth, McCabe illuminates her quiet, searing power with the tenderness of a poet, offering up a powerful, lyrical indictment of the tensions that tear families and nations apart.
Death and Nightingales will air this month.