Blumhouse Scares Up Over $4 Billion At The Worldwide Box Office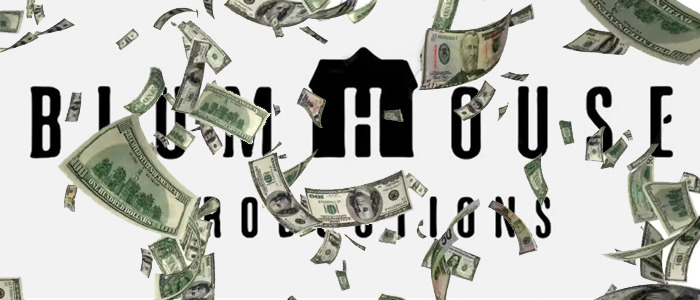 The word "visionary" gets thrown around a lot in the entertainment industry, but Jason Blum is truly one of Hollywood's most visionary film producers. Over the past twelve years, he popularized a business model that slashes filmmaking costs, gives directors the type of creative control they often don't find elsewhere, and rakes in serious profits if the movie proves to be a hit.
Aided by the recent success of David Gordon Green's new Halloween movie, Blumhouse has officially crossed the $4 billion mark at the global box office. Read on for some of Blum's thoughts about possible sequels to Halloween and Get Out.
Variety reports that Blumhouse has earned more than $4 billion worldwide. That's a big milestone for a company that makes movies with budgets under $5 million.
Blum changed the game with 2007's Paranormal Activity, the found footage horror film made for around $15,000. It ended up grossing more than $193 million and helped shaped Blumhouse's policy of keeping production budgets low and waiting for huge box office numbers to roll in. Blum is well known for producing horror films like Insidious, The Purge, Sinister, Unfriended, The Visit, Split, and Get Out, but he and Blumhouse have also been involved with some terrific non-horror stuff as well: films like Whiplash and BlacKkKlansman, and television shows like The Jinx: The Life and Deaths of Robert Durst and this year's Sharp Objects.
Perusing Blum's IMDb page, films like Jem and the Holograms, Area 51, Jessabelle, and Amityville: The Awakening are glaring reminders that not everything he touches turns to gold. But he has a surprisingly great track record overall, and his low budget model – in which directors and actors are paid baseline scale rates and then make a percentage of the profits on the back end instead of taking a paycheck up front – has become the go-to example for how to make money in an industry that's become increasingly risk-averse over the past fifteen years.
In an interview, Blum answered some questions about possible sequels for Get Out and Halloween:
"The only way I would work is if Jordan Peele came up with an idea. There's no other way there could be a sequel to "Get Out" because it would stain the quality of the first movie. The only way I would touch it is if the person who created it wanted to. And I'm not going to encourage or discourage him, I have not and would not put pressure on him to do it again. It would have to totally come from him...
"We want to do [a Halloween sequel]. We have to all get together and sign on the dotted line. I'm trying to make it happen. I hope we can get the original team back together, that would be really important. And then we would push the ideas of storytelling that people don't expect."
That "original team" presumably includes franchise royalty like John Carpenter and Jamie Lee Curtis, but it also includes the director of the most recent film:
"If we do another Halloween movie, we're certainly going to work very hard to get David Gordon Green back."
A sequel to Halloween is probably inevitable, and with the current movie still pulling in strong box office numbers, I wouldn't be surprised to hear an official announcement before the end of the year.