Sinemia Announces New Weekday Only Subscriptions, Includes Family Plans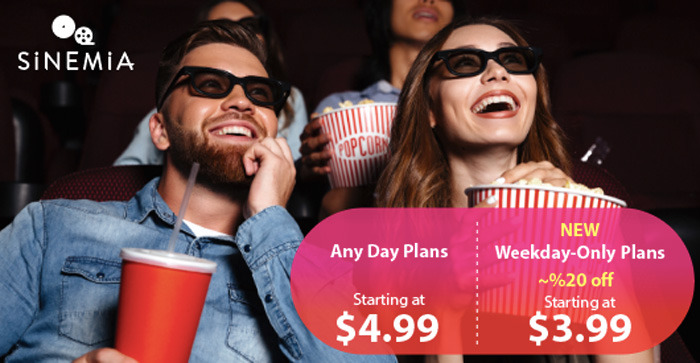 Sinemia is continuing to take full advantage of the downfall of MoviePass, and they might even be looking to entice some AMC Stubs A-List members who might not be happy about the recent slight price increase. The movie ticket subscription service has announced a new series of weekday plans with the hopes of filling theaters on the less popular days by offering cheaper subscriptions. This could be a great option for those moviegoers who don't feel the need to hit movie theaters on opening weekend.
Get the details on the new Sinemia weekday subscriptions below.
The new Sinemia weekday subscriptions were announced today, giving customers nearly 20% off Sinemia's standard price plans for movie tickets from Monday through Thursday at any theater location in the United States, United Kingdom, Canada, and Australia. The company hopes these plans will entice bargain moviegoers and help give movie theaters more business on the lower traffic days.
Here's the new weekday discount plans being offered by Sinemia:
$3.99 per month (instead of $4.99 standard price) – One ticket to any movie per month.
$8.99 per month (instead of $10.99 standard price) – Three tickets to any movie per month.
$9.99 per month (instead of $12.99 standard price)- Two tickets to any movie per month including 3D, 4D and IMAX formats.
$14.99 per month (instead of $17.99 standard price) – Three tickets to any movie per month including 3D, 4D, IMAX formats.
$23.99 per month (instead of $29.99 standard price) – One ticket to any movie per day (aka unlimited) 2D movie tickets
As you can see, like the traditional Sinemia subscription plans, these new weekday only plans also offer certain subscriptions that allow access to tickets for movies in 3D, 4D and IMAX. These weekday plans are also available as family plans, which allow movie tickets for two people.
Sinemia CEO and founder Rifat Oguz says, "We're constantly striving to help people see movies more affordably, while doing so in a way that supports the entire movie-going economy. With our new weekday plans, people can see movies at an even steeper discount, encouraging attendance on days where most movie theaters have many empty seats."
Again, what makes Sinemia superior to MoviePass is you can select tickets in advance without any blackout dates, and you don't have to be at the theater to buy them. There's also no surge pricing. However, Sinemia apparently isn't without disadvantages. Some users have been complaining on Twitter about Sinemia, specifically about hidden fees and sketchy terms and conditions:
@Sinemia is charging an additional $1.80 per ticket ABOVE AND BEYOND the theater convenience fees. That's a 25% fee?!?!? No credit card processor charges this rate!! They bragged about being BETTER than @MoviePass .They are no different! #SHAMEFUL #SCANDAL #fraud #RetweetPlease

— Steve Farmer (@SteveFarmerJr) October 28, 2018
Since nobody on the /Film team subscribes to Sinemia, we can't confirm or deny these issues. But it sounds like Sinemia may have some unfavorable traits users may want to look into before signing up. Meanwhile, it seems like AMC Stubs A-List is being totally transparent about their plans, and they're not trying to screw anyone over, so that's encouraging. It'll be interesting to see how the movie ticket subscription game changes now that MoviePass seems to be fading out.