'The Titan Games' Trailer: The Rock Cooks Up His Own Athletic Competition Show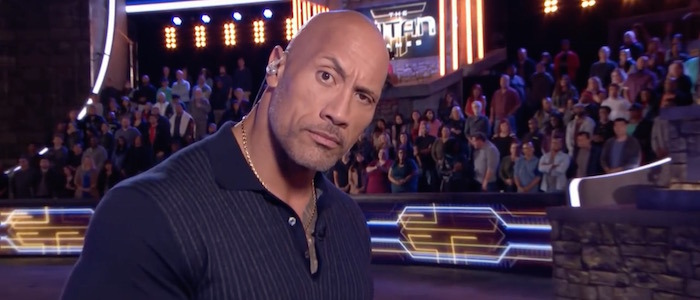 I've always been a sucker for athletic competition shows. There's nothing quite like sitting on your fat ass and eating chips while you criticize absurdly in-shape folks as they attempt to overcome mind-boggling physical challenges. I'm also a sucker for Dwayne "The Rock" Johnson, that endless well of charisma wrapped in a coat of bulging muscles and tribal tattoos. So put these together and you have a television program I will most definitely check out.
The first trailer for The Titan Games has arrived and it shows off a slick physical competition series fueled by Johnson's unique brand of optimism and passion. There is also lots of sweaty, muscle-y people looking overwhelmed at what they've signed up to do. In other words: must-see TV.
The Titan Games Trailer
The Titan Games appears to be a cross-section of several other competition shows. The basic format looks like American Ninja Warrior, but the challenges look to be more strength-based than that show's focus on agility and speed. The celebrity angle reminds me of Netflix's ultra-slick Ultimate Beastmaster, but it looks like Johnson will stick around a lot longer than Sylvester Stallone, who put in a single appearance on that series before vanishing. The physical tests themselves resemble a Hollywood-ized version of the some of the absurd tasks you see at the Crossfit Games, which suggests that everyone who talks about doing Crossfit all the time finally got heard by an NBC executive who promptly said "Please shut up about Crossfit and I'll make sure it gets injected into a new primetime TV series starring The Rock."
And while I'm excited to watch people who could snap my neck like a twig battle each other in tests of strength and endurance, I'm more excited about the personal stories. This is something Ultimate Beastmaster has done particularly well – the drama of the competition is enhanced by genuinely well-told explorations into the contestants' personal lives. This trailer focuses on that human aspect, which makes me think The Titan Games understands the core of what's so appealing about these shows. It's not about the physical acts of strength, but about the people pulling them off.
Here's the official synopsis:
Inspired by Dwayne Johnson's desire to motivate global audiences to reach their potential both mentally and physically, this new athletic competition offers everyday men and women the opportunity to step inside the Titan arena and compete against one of six reigning Titans in incredible head-to-head challenges designed to test their minds, bodies and hearts. If a contender defeats a Titan, the contender takes the Titan's place and joins the elite Titan group. But once they become a Titan, they must be victorious every week to keep their spot. In the end, the remaining Titans battle it out in hopes of becoming the last man and woman standing.
The Titan Games will premiere on NBC in January 2019.