DC Universe's 'Swamp Thing' Casts Will Patton And Virginia Madsen As The Show's Villains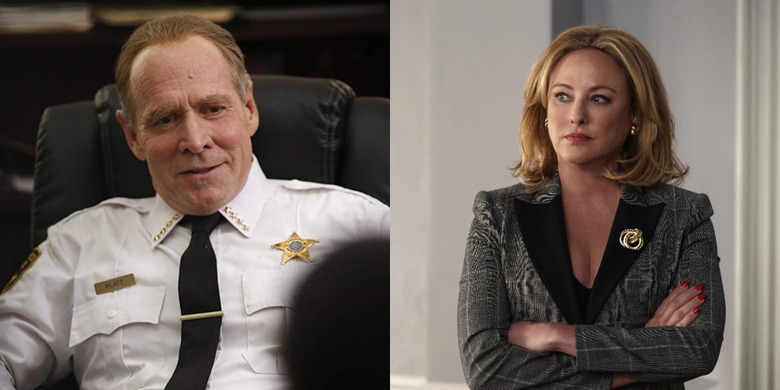 Meet the Sunderlands. Will Patton and Virginia Madsen have been cast as Avery and Maria Sunderland, respectively, in DC Universe's upcoming Swamp Thing. The pair will be joining the Swamp Thing cast, which already includes Crystal Reed, and Maria Sten.
Deadline reports that the newest residents of DC Universe's Swamp Thing are Will Patton, recently seen in this year's Halloween, and Virginia Madsen, who famously tangled with another supernatural monster in Candyman and recently appeared in ABC's Designated Survivor.
Patton has been cast as the key antagonist of the series, butting heads with Reed's protagonist Abby Arcane over the mystical swamp situated near a small Louisiana town. Deadline describes his character as a "prominent businessman" and "the de facto patriarch of his Louisiana hometown, always giving back to the community.  His benevolent veneer, however, masks a ruthless determination to harness the power of the swamp for profit."
Madsen will be playing Avery Sunderland's privileged wife, Maria Sunderland, who suffers through Avery's life-long obsession with the swamp. "Her poised existence is shaken further when the return of Abby Arcane reawakens a deep grief over the loss of Maria's daughter, Shawna, drawing her into the dark supernatural mysteries emerging from the swamp," Deadline notes.
The series follows Abby Arcane (Crystal Reed) as she investigates a seemingly deadly swamp-born virus in a small Louisana town, "but soon discovers that the swamp holds mystical and terrifying secrets. When unexplainable and chilling horrors emerge from the murky marsh, no one is safe."
The Swamp Thing series will be produced by horror maestro James Wan and run by Mark Verheiden and Gary Dauberman with a pilot directed by Underworld's Len Wiseman, a line-up that suggests a horror-heavy approach that will set the series apart from the DC Universe's other original programming like Titans, Harley Quinn, and Doom Patrol.
The series is set to debut on the DC Universe streaming platform sometime in 2019.