'Shrek' And 'Puss 'N' Boots' Reboots Coming From 'Despicable Me' Creator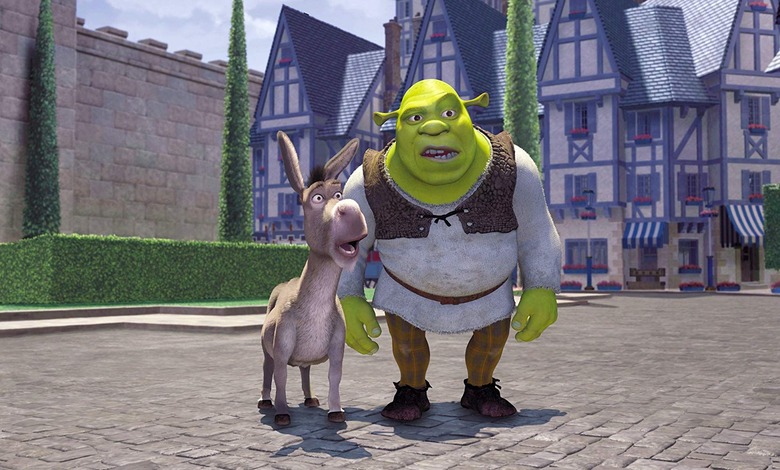 Shrek is coming back from far, far away. The franchise starring Mike Myers as the most meme-able ogre is getting revived with a Shrek reboot and a Puss 'n' Boots reboot from Despicable Me creator Chris Meledandri.
Somebody once told Variety that Illumination chief Chris Meledandri is reviving Dreamworks' animated fantasy comedy Shrek, with reboots of both Shrek and the Antonio Banderas-starring spin-off Puss 'n' Boots planned.
Meledandri will be reviving the two films with "fresh story lines to reintroduce" the characters of the mud-loving ogre and sword-wielding cat to a new generation — probably much like Illumination's upcoming cutesy reimagining of Dr. Seuss' The Grinch.
I'm not the sharpest tool in the shed, but I'd say that most of the (somewhat baffling) popularity of Shrek could be attributed to the novelty of its sharp satire of fairy tales, anchored by winning performances from some of the mid-2000s biggest comedic talents: Myers, Eddie Murphy, Cameron Diaz, and John Lithgow. And Meledandri seems to know that: he's bringing the whole gang back together. The founder of Illumination, the company behind such films as Minions, Sing, and The Secret Life of Pets, plans to bring back the original cast for the Shrek and Puss 'n' Boots reboots, telling Variety:
"When you look back on those vocal performances they're awesome, and while you certainly could make a case for a complete reinvention, I find myself responding to my own nostalgic feelings of wanting to go back to those characterizations. The challenge for us has been to find something that really does feel like it's not simply yet another film in a series of sequels."
The rights to the Shrek franchise currently lie under Universal's parent company Comcast, which bought DreamWorks Animation in 2016 for $3.8 billion.
So here we are, in the year of our lord 2018, with new Shrek and Puss 'n' Boots movies to dread. Dreamworks beat that franchise to death after the phenomenal success of the first two (genuinely good!) Shrek movies. Did you know there was a fourth Shrek movie? No one does! But Illumination of all companies is not going to recapture that weird, sardonic lightning in a bottle that made the first Shrek so unbelievably great (if Illumination can make The Grinch look adorable, make no mistake, they're going to give the same make-over to Shrek). The only thing I'll hope for is that we get another hit Counting Crows song out of this.