'UglyDolls' Trailer: The Weirdly Adorable Plush Dolls Come To Life In A Musical Adventure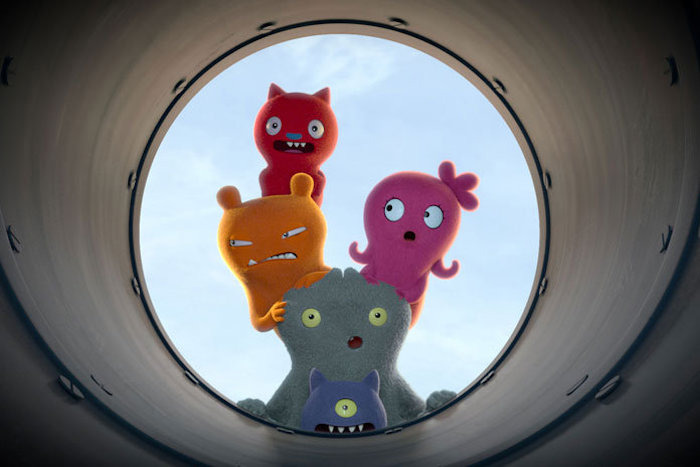 If we could have dancing Trolls and fighting LEGOs, why not singing UglyDolls? The line of plush dolls branded as weird, creepy-cute toys had no indication of any musical ability when they exploded in popularity in the mid-2000s, but here we are. But if you're going to make UglyDolls into a musical, why not go all in, as STX did with the uber-talented voice cast including Kelly Clarkson, Blake Shelton, Janelle Monae, and Nick Jonas. See the UglyDolls trailer below.
UglyDolls Trailer
Felt monsters never looked so cute as they do in UglyDolls, the animated musical directed by Kelly Asbury which adapts the plush toy line created by Sun-Min Kim and David Horvath in 2001. The movie starts off in Uglyville, a place where the "weird is celebrated," and follows the journey of a curious UglyDoll named Moxie who finds herself stumbling upon another town, Perfection, where conventionally beautiful dolls reside. It's there where she and her crew of fellow UglyDolls learn to embrace their own imperfections and weirdness.
I'm a little impressed that Asbury and writer Erica Rivinoja were able to fashion a whole mythology for UglyDolls, a toy line that really had no hook apart from being really weird-looking. UglyDolls were the toys for "alt-kids," the ones who thought themselves too cool for regular toys. Growing up at the height of the UglyDolls boom, I found that they made for fun collectibles, since each was wholly unique from the other. I'm not sure what to make of them turning this unique line of plushes into a musical, but hey when you got Kelly Clarkson leading the charge, I've got no complaints.
UglyDolls also stars Wanda Sykes, Emma Roberts, Gabriel Iglesias, Wang Leehom and Pitbull.
Here's the official synopsis for UglyDolls:
In the adorably different town of Uglyville, weird is celebrated, strange is special and beauty is embraced as more than simply meets the eye. Here, the free-spirited Moxy and her UglyDolls friends live every day in a whirlwind of bliss, letting their freak flags fly in a celebration of life and its endless possibilities, occasionally looking to the sky, where a new UglyDoll will appear and be embraced by the community.
Moxy (Kelly Clarkson) loves her square-peg life in this round-hole town, but her curiosity about all things leads her to wonder if there's something – anything – on the other side of the mountain which nestles Uglyville. Moxy gathers a group of her closest friends and sets off to find what's on the other side. They discover another world – Perfection – a town where more conventional dolls are trained in protocols before they graduate and are sent to the "real" world to find the love of a child.
In Perfection, Moxy and her crew are subject to the manipulations of Lou (Nick Jonas), the perfect doll in charge of training recruits. Here, the UglyDolls will confront what it means to be different, struggle with their desire to be loved, and ultimately discover that you don't have to be perfect to be amazing because who you truly are is what matters most. Also starring in the voice cast of UGLYDOLLS are Wanda Sykes, Emma Roberts, Gabriel Iglesias, and Wang Leehom.
UglyDolls opens in theaters on May 10, 2019.