'Deadpool 2' PG-13 Cut Now Called 'Once Upon A Deadpool', New Scenes Were Shot In One Day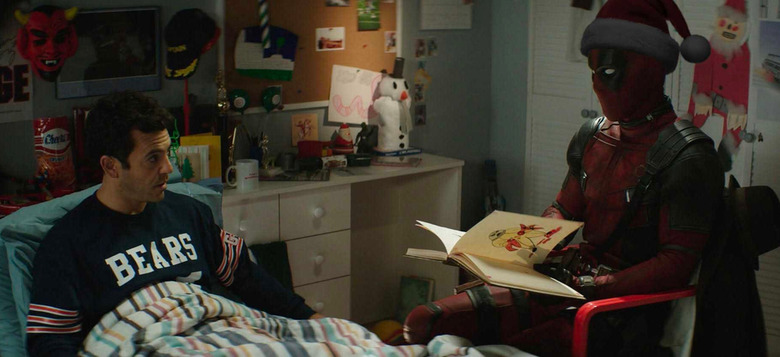 We learned in September that Fox would be releasing a PG-13 cut of Deadpool 2, and since then, info about the re-cut superhero sequel has slowly trickled out. Word broke that Fred Savage would appear in the new cut, reprising his role from The Princess Bride. And then it was revealed Ryan Reynolds returned for reshoots. Now, the full details about the Deadpool 2 PG-13 cut have been revealed, along with a new title: Once Upon a Deadpool.
According to Deadline, the much-hyped Deadpool 2 PG-13 cut now goes by the monicker Once Upon a Deadpool, and the new cut will have a limited release – running in theaters from December 12 till Christmas Eve. As we previously reported, Ryan Reynolds came in to shoot new scenes – but don't expect anything drastic. Per Deadline, the new scenes consist entirely of "a framing sequence that was conceived by Deadpool star Ryan Reynolds and writers Rhett Reese and Paul Wernick." All the new scenes were shot in one day.
That framing finds Reynolds' Deadpool reading a bedtime story to actor Fred Savage, recreating his role from The Princess Bride. All in all, eight scenes were shot to serve as "interstitial additions to the existing sequel's footage." The rest of Once Upon a Deadpool will simply be a re-edited version of Deadpool 2, with footage "edited to meet PG-13 thresholds of violence and language."
While all of this sounds like a cheap ploy for Deadpool 2 to make more money at the box office, there is a noble component to this release: charity. Reynolds told Deadline:
"Because it's the season of giving, we will also be giving $1 for every ticket sold to F-ck Cancer, which will be renamed Fudge Cancer just for this limited time and campaign."
But will this new cut be something the Deadpool fandom wants? The very nature of the Deadpool franchise ensures that it's an R-rated superhero film. In fact, the box office success of the first Deadpool is what made many producers realize that it was okay to make R-rated comic book movies, paving the way for the much better Logan. Deadpool as a character relies heavily on R-rated shenanigans, and it might be interesting to see how this all plays out in PG-13 form.
"I think it's not only going to appeal to kids but also to people who love Deadpool," screenwriter Paul Wernick told /Film. "I think it's subversive enough and fun and creative and something that only Deadpool could do. So I think it's going to be a real joy for not only a whole new audience, but also an audience that has seen and loved the Deadpool movies."