'Ralph Breaks The Internet' Clip Introduces Yesss, Announces Start Of Ticket Sales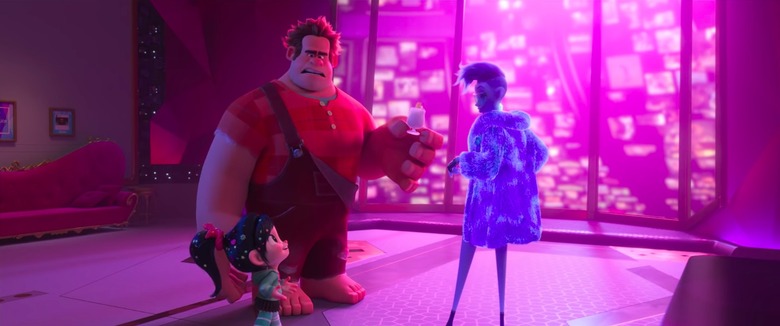 Do you love Wreck-It Ralph? Well, you'll "heart" this new clip from the sequel. Disney has released a new Ralph Breaks the Internet clip which introduces Taraji P. Henson's internet-savvy character, Yesss, and marks the beginning of online ticket sales for the Disney animated comedy.
Ralph Breaks the Internet Clip: Tickets on Sale Now
The internet: you either love it or hate it, and we know from various trailers and featurettes for Ralph Breaks the Internet, that Ralph (John C. Reilly) despises it. But before that happens, it seems he's pretty on board with the fast-paced World Wide Web, especially after he accidentally goes viral. That makes him the guest of honor for internet entrepeneur Yesss, a new character introduced in Ralph Breaks the Internet who is introduced in the above clip. The head of algorithms at the trend-making site "BuzzzTube," Yesss wines and dines Ralph after his viral moment and gives him and Vanellope (Sarah Silverman) a welcome to the world of internet celebrity.
The new clip marks the first day of online ticket sales for Ralph Breaks the Internet, which you can pre-order tickets for here. But if you're looking for motivation to buy those tickets, peep the Ralph Breaks the Internet early buzz, which promises a sequel that's just as good, or even better than the original.
Here's the official synopsis for Ralph Breaks the Internet:
"Ralph Breaks the Internet" leaves Litwak's video arcade behind, venturing into the uncharted, expansive and thrilling world of the internet—which may or may not survive Ralph's wrecking. Video game bad guy Ralph (voice of John C. Reilly) and fellow misfit Vanellope von Schweetz (voice of Sarah Silverman) must risk it all by traveling to the world wide web in search of a replacement part to save Vanellope's video game, Sugar Rush. In way over their heads, Ralph and Vanellope rely on the citizens of the internet—the netizens—to help navigate their way, including a webite entrepreneur named Yesss (voice of Taraji P. Henson), who is the head algorithm and the heart and soul of trend-making site "BuzzzTube."
Ralph Breaks the Internet hits theaters on November 21, 2018.