AMC A-List Raising Prices In 15 States, Expanding Features & Becoming More Family-Friendly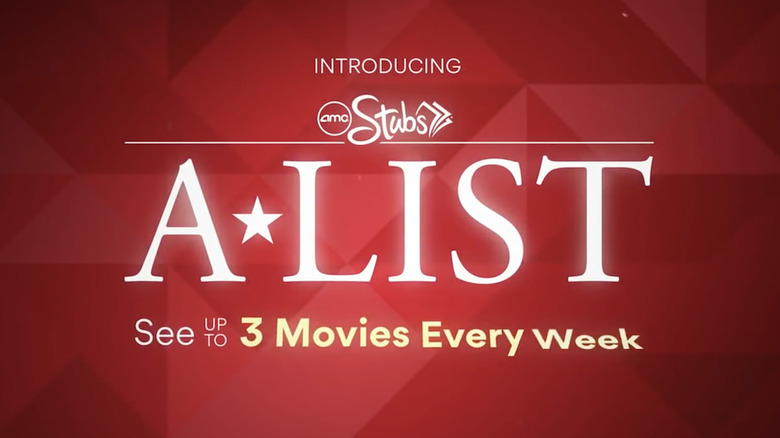 The early success of movie ticket subscription services like MoviePass inspired AMC, the nation's largest theater chain, to institute their own plan called AMC Stubs A-List. The chain has announced some planned updates to the service, including a price increase for customers in 15 states which will go into effect in 2019, as well as adding some new features for subscribers. And they're becoming a bit more family-friendly, too.
Learn all about the new AMC A-List updates below.
There's a lot to unpack here, so let's address one thing at a time.
Price Increases in 15 States
We'll start with the change that may affect your wallet, depending on where you live. Here's the breakdown from an official press release:
Beginning January 9, 2019, the monthly price of AMC Stubs A-List will move to $21.95 plus tax for guests in Colorado, Delaware, Florida, Georgia, Illinois, Maryland, Minnesota, Pennsylvania, Virginia, Washington state, and The District of Columbia. The program moves to $23.95 plus tax for guests in California, Connecticut, Massachusetts, New Jersey and New York.
A price increase like this seemed inevitable, but here's an important note: if you're already signed up for the service, or if you sign up as a new member before January 9, 2019, you'll still be charged the current, lower price of $19.95 per month for the first twelve months of your membership. Residents of the other 35 states will experience no price changes...yet.
More Convenient For Families
While the price change will take effect next year, A-List has instituted a couple of other changes that are already in place. Households can now use a single credit card to pay for separate, individual A-List accounts. And additionally, the minimum age for A-List members has been dropped from 18 to 16 (as long as the member shows a valid photo ID). Allowing one credit card to be used makes payments easier to keep track of for families comprised of multiple A-List members.
New Features
Perhaps in an attempt to ease the blow of the price hike, A-List is implementing a few more new features. By June of 2019, AMC will feature reserved seating in all of its AMC-branded and AMC Dine-In theaters. (Though the reserved seating element will not apply to AMC Classic theaters, which can be found here.)
By the end of June 2019, AMC theaters in many of the country's major markets – specifically Boston, Denver, Houston, Los Angeles, New York, San Diego, and San Francisco – will make Mobile Ordering available to guests. This service "lets guests purchase their food and drinks online at the same time as they reserve their tickets, easily and conveniently picking them up when they arrive at the theatre." No more waiting in line...unless everyone going to your specific screening also uses this feature, in which case you'll still need to wait behind them to pick up your food. But hey, it's faster than the alternative.
A-List Wants You To Know They Aren't Like MoviePass
One of the reasons MoviePass experienced such a huge downfall was because the company would radically change its services without warning. But AMC A-List wants to make it crystal clear that they aren't going to be playing those games with its customers:
AMC will continue to operate its A-List program with transparency and clarity. So that A-List members can always know what they can expect with reliability and predictability, AMC hereby warrants that for all guests who join on or after January 9, 2019, the Company will provide at least 90-days advance notice before making any changes to their A-List program's pricing or benefits. Additionally, reflecting commitments already made, for those A-List members who have joined or will join before January 9, 2019, they are assured not only of 90- days advance notice of any future change in pricing or benefits, but also that no such change would apply to them until 12 months after their initial enrollment date. As a reputable operator, AMC has no desire to whipsaw its guests with frequent change, nor would it do so without providing guests reasonable advance notice.
Gotta love a press release that uses the word "whipsaw." Extra points for creativity, AMC!