Exclusive 'BlacKkKlansman' Clip: Why Spike Lee Was The Right Director For This True Story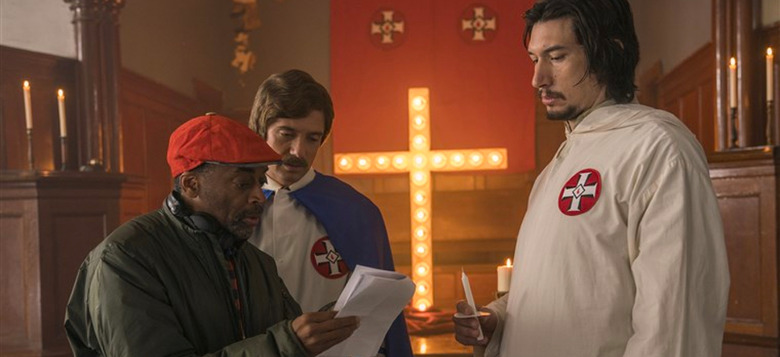 BlacKkKlansman tells the unbelievable true story of Ron Stallwortth, an African-American police officer who managed to infiltrate the Ku Klux Klan in the 1970s. Spike Lee helms the acclaimed film, which makes its way to Blu-ray this week. Ahead of the Blu-ray release, we have an exclusive BlacKkKlansman clip that delves into why Spike Lee was the perfect director to tell this story.
BlacKkKlansman Clip
"Spike understands the culture," says the real Ron Stallworth in the clip above. "He understands we as a people, and he has that unique characteristic of being able to bring all that passion to life."
Spike Lee has an incredible line-up of films under his belt, and with BlacKkKlansman, he's once again captured the attention of audiences and critics alike. Lee adapts Stallworth's memoir into a powerful, and unfortunately timely, tale of race relations and deep-seated racism within American culture.
"We were just trying to tell truth to power," Lee said in an interview. "It had to be a period piece that also comments on what is happening today with this guy in the White House. The whole thing with [NFL players and] the anthem, building the wall, "Mexicans are rapists"... it's just crazy. The Year of Living Dangerously, that's where we are."
BlacKkKlansman is currently available on Digital, and will be available on Blu-ray, 4K Ultra and DVD on November 6. Special features are listed below.
From visionary filmmaker Spike Lee comes the incredible true story of an American hero. In the early 1970s Ron Stallworth (John David Washington) becomes the first African-American detective in the Colorado Springs Police Department. Determined to make a difference, he bravely sets out on a dangerous mission: infiltrate and expose the Ku Klux Klan. He recruits a seasoned colleague, Flip Zimmerman (Adam Driver), into the undercover investigation. Together, they team up to take down the extremist organization aiming to garner mainstream appeal.
BlacKkKlansman offers an unflinching, true-life examination of race relations in 1970s America that is just as relevant in today's tumultuous world.
A Spike Lee Joint – Producer Jordan Peele, cast and film subject Ron Stallworth discuss the unique experience of working with iconic director Spike Lee.
BlacKkKlansman Extended Trailer Featuring Prince's "Mary Don't You Weep"