Exclusive 'Blindspotting' Clip Asks: What Is Blindspotting?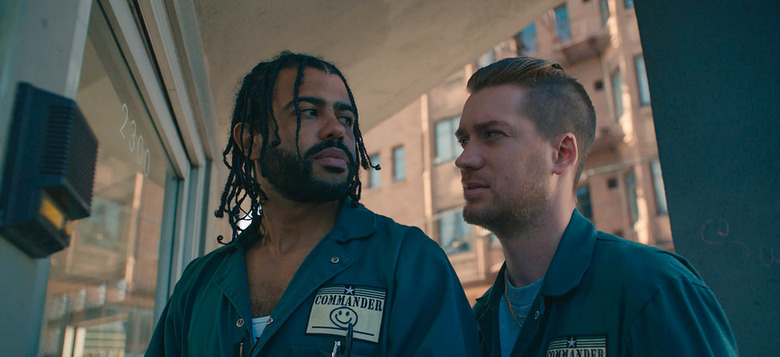 What is Blindspotting? It's one of the year's most well-reviewed films, but it also seems like a movie that's slipped through the cracks. Blindspotting hits VOD this week, though, and arrives on Blu-ray near the end of the month, giving audiences who missed it in theaters a chance to check it out. In an exclusive Blindspotting clip below, the folks behind the film explain just what Blindspotting is.
Blindspotting Clip
As the clip above explains, Blindspotting "hands you two different perspectives, and its writers, who are also its stars, throw themselves into these two people." The film, which was produced and co-written by Daveed Diggs and Rafael Casal Comes – who also star – "provides a raw glimpse into three days in the life of a parolee and the struggles of race, class, and police brutality in Oakland, California."
"Collin (Diggs), a parolee facing his final three days of probation, needs to stay clear of trouble. Miles, (Casal), Collin's hot-tempered best friend, can't stay out of it. When Collin witnesses a police shooting, the two men's friendship is tested, sending Collin and Miles on a collision course with each other."
In his /Film review from Sundance, Ben Pearson wrote:
Sharp, stylish, and sincere, Blindspotting may hook you with its flashy wordplay and slick visuals, but this is a hilarious and vital movie of the moment that's burning with empathy. Some may quibble about whether its reach exceeds its grasp in terms of accomplishing everything it has on its mind, but one thing is undeniable: this movie features an outstanding performance from soon-to-be-superstar Daveed Diggs. When we look back on his rise, Blindspotting will be a big turning point and an effective time capsule of what an emerging creative force looks like, and I can't wait to see what he does next.
Blindspotting arrives on Digital November 6 and on Blu-ray Combo Pack (plus DVD and Digital), DVD, and On Demand November 20. A full list of special features is below.
BLU-RAY / DVD / DIGITAL SPECIAL FEATURES
Deleted Scenes
"Straight from the Town: Making Blindspotting" Featurette
"Carlos López Estrada: A Director's Featurette
Audio Commentary with Director Carlos López Estrada
Audio Commentary with Writers/Actors Daveed Diggs and Rafael Casal