'Overlord' Opening Scene Parachutes From Burning Plane Onto The Internet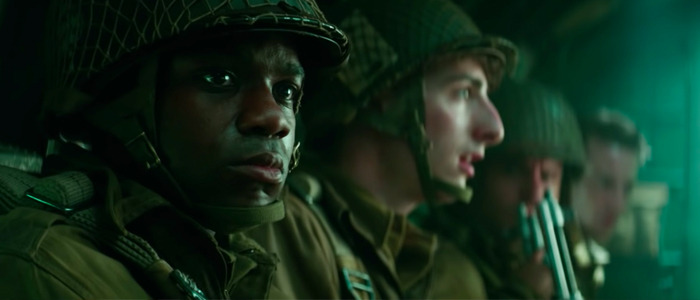 World War II has been the backdrop for tons of alternate history stories over the years, from Quentin Tarantino's righteous reimagining in Inglourious Basterds to far more ridiculous riffs in projects like Iron Sky. Julius Avery's new Bad Robot movie Overlord is the latest film to use that real conflict for stylized drama, and now an extended clip from the first few minutes of the upcoming movie have parachuted onto the Internet. Check out the new clip below.
Overlord Opening Scene
This clip picks up after a few minutes of character banter on the plane, and largely sticks with the perspective of a soldier named Boyce, played by Fences actor Jovan Adepo. As far as these types of scenes go, this one's pretty standard – a simple parachute jump would be boring, so it's obvious shit is going to hit the fan. But it's still effectively executed, and for a sci-fi horror movie, the explosions and gore are appropriately more heightened than the pure realism of HBO's Band of Brothers (which in my eyes is the benchmark for WWII parachute scenes).
/Film's Jacob Hall caught a screening of Overlord at Fantastic Fest, and one of the aspects he praised the most about it can be seen in the clip above:
Perhaps the film's greatest strength is that it takes itself completely seriously, never once winking at the camera. A handful of American soldiers sneak into a French village on the eve of the D-Day landings on a mission vital to the invasion's success. But they encounter more than they bargained for: Nazi experiments that feel like they shambled out of a Stuart Gordon or John Carpenter production. Throughout this all, the cast treats this movie like they're in Saving Private Ryan – this is no joke, damn it! That self-seriousness pays off as the film escalates and the goofy premise starts to feel like it actually matters rather than act as a platform for yet another splatter comedy in the Evil Dead mold.
You can read our full review right here.
Here's Overlord's official synopsis:
With only hours until D-Day, a team of American paratroopers (Jovan Adepo, John Magaro, Wyatt Russell, Iain DeCaestecker) drop into Nazi-occupied France to carry out a mission that's crucial to the invasion's success. Tasked with destroying a radio transmitter atop a fortified church, the desperate soldiers join forces with a young French villager to penetrate the walls and take down the tower. But, in a mysterious Nazi lab beneath the church, the outnumbered G.I.s come face-to-face with enemies unlike any the world has ever seen. From producer J.J. Abrams, Overlord is a thrilling, pulse-pounding action adventure with a twist.
Overlord crashes into theaters on November 9, 2018.