'It' Director Andy Muschietti Adapting H.G. Wells Classic 'The Time Machine', Leonardo DiCaprio Producing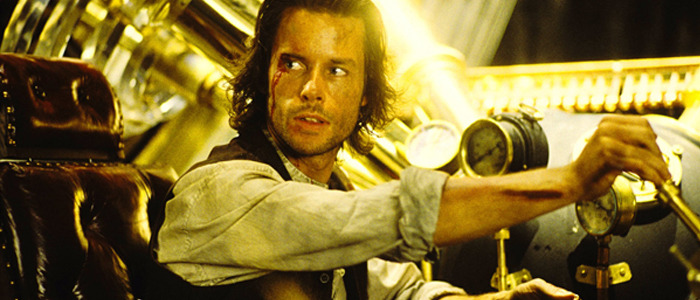 Andy Muschietti directed last year's adaptation of Stephen King's It, but Muschietti is no clown. He's been able to parlay that movie's record-breaking success into multiple new directing gigs, and now he's lined up a brand new one: he'll direct a new adaptation of H.G. Wells' classic time travel novella The Time Machine, and Leonardo DiCaprio is on board as a producer.
This project is so hot that competing studios have decided to temporarily put aside their differences and work together to bring it to life. Find out more about the newest The Time Machine movie below.
Deadline brings word about the new adaptation, revealing that Andy Muschietti and Barbara Muschietti (Andy's sister and producing partner) developed a treatment for the film, but there's no word on if they'll bring on another writer to flesh it out or if they'll tackle writing duties themselves. Barbara will produce along with DiCaprio and Jennifer Davisson, who runs DiCaprio's Appian Way Productions. Arnold Leibovit, who executive produced the 2002 movie version, will remain on board as an executive producer here.
Published in 1895, Wells' The Time Machine coined the title phrase and popularized the idea of time travel for an entire generation. It tells the story of a time traveler who visits the year 802,701, where he encounters two major post-human races that occupy the Earth. As the protagonist attempts to understand this new society, Wells inserts several bits of social commentary, and the result was a sci-fi story that was hugely influential for its time. It's been adapted into several different mediums, and below you can watch the trailer for the 2002 film version (which was directed by Wells' great-grandson):
Though he hasn't tackled anything that's explicitly science fiction yet, Muschietti may be a good fit for a project like this because he's someone who's interested in unnerving material. I can easily see his take on this being a bit more twisted than the original, and I'm sure he'll relish the idea of perfecting the designs of the fictional Eloi and Morlock races.
Warner Bros. is "leading the charge" on this adaptation, according to Deadline, but WB is teaming with Appian Way and Paramount Pictures to make this film a reality. WB and Paramount united for Christopher Nolan's Interstellar a few years ago, with Paramount distributing in North America and WB distributing in the remaining territories, so perhaps a similar arrangement will be found this time.
Time travel must be en vogue at the moment, because a TV adaptation of The Time Machine went into development earlier this year. I can't begin to fathom why anyone would ever consider leaving 2018 and traveling to a different time period because things are just so great all around right now, but to each his own.